What the 21st-century home looked like in 1967
Program with Walter Cronkite accurately predicted the rise of the home office and the big-screen TV. But we're still waiting for robot maids and meals that cook themselves.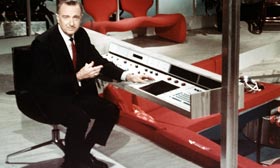 Some of you may remember when the idea of 2001 was the stuff of science fiction.
Back in 1967, newscaster Walter Cronkite did a half-hour episode of his regular "The 21st Century" program envisioning the home of 2001. Several bloggers have recently taken a look at that old video, evaluating which predictions have come to pass in the past 45 years and which have not.
Cronkite's prediction about the ubiquitous home office certainly came true, though the devices we're using are a lot smaller than the ones he used in his demo. His phone of the future doesn't look much like today's smartphone, and we don't bother to print out the news we get on our screens.
Post continues below
His future home office, however, did include video conferencing, online delivery of news, weather and stock reports, and closed-circuit broadcasts from the rest of the house. Matt Novak of The Smithsonian's Paleofuture blog notes that the "electronic correspondence machine" is visible, but Cronkite doesn't mention it.
Cronkite accurately predicts of the home office: "Now this is where a man might spend most of his time in the home of the 21st century." Novak notes that Cronkite's program didn't predict one major social change: that the occupant of the home office was equally likely to be a woman.
And this prediction was certainly accurate: "In the 21st century, it may be that no home will be complete without a computerized communications console."
The predictions of the living room of the future were fairly accurate: a big screen where you could watch sports or movies and surround sound for music.
The predictions about the kitchen still look pretty futuristic: a machine where you can program in the ingredients and have a complete meal come out at the end of the line, and disposable dishes that you create at the beginning of each meal and then melt.
And we are still awaiting those robots that will clean the house. The Roomba and its clones are fine as far as they go, but they still don't scrub the toilet. Do you think we'll have those robot maids by 2062, the year in which "The Jetsons" took place?
What innovations do you think the next 45 years will bring to the home?
FIND YOUR DREAM HOME OR APARTMENT
msn real estate is social
WHAT'S YOUR HOME WORTH?
HOME IMPROVEMENT PROFESSIONALS