Cities and neighborhoods constructed of Jell-O
San Francisco artist creates tableaus of colorful gelatin as a commentary on the transitory nature of structures. They do live on in photos and videos.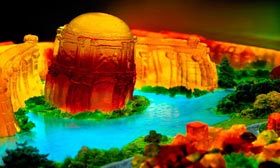 Anyone who has even seen a building demolished knows that even the most solid of structures is unlikely to last forever.
The buildings constructed by San Francisco artist Liz Hickok are even more transitory: They are made of Jell-O.
In the past eight years, Hickok has constructed thousands of colorful miniature buildings from Jell-O, including whole neighborhoods of San Francisco, New York and Las Vegas. She also did a Jell-O White House.
Post continues below 
Her jiggly vision of San Francisco in 2006 was among the artistic installations to commemorate the 100th anniversary of the 1906 earthquake.
 "It makes us aware of the temporary nature of it all," Hickok told The New York Times of her "Earthquake" installation. "We're sitting on fragile ground."
Her Las Vegas work created tiny gelatin suburban houses, which were displayed in various stages of dehydration on a gallery window in Kirkland, Wash. The exhibition included a video she made showing the Las Vegas desert being overtaken by Jell-O houses, which then shriveled up and were replaced by new, larger Jell-O houses. "I took advantage of the fugitive nature of gelatin to comment on the nature of suburban growth and the fragile housing economy in Las Vegas," she writes on her website.
Her tableaus look like little stage sets, some complete with lights and other props, others lighted from underneath or from the side. She creates the Jell-O cities using molds, sculpting them into shapes with a knife. Because they obviously don't last long, she preserves her work in photos and video. (She does have some photos of aging Jell-O buildings in the "Jell-O Mold" section of her website.)
At least one of her creations met an untimely end when it was placed in the same room as an exhibit of action figures. You can see the results in her video "Godzilla Eats Scottsdale."
She writes of the ephemeral nature of her creations (and of cities):
Once I began building my own model cities out of Jell-O I found that the jiggly, iconic childhood dessert is not only perishable, but also uncontrollable. Each time I take a picture of one of my cityscapes any building may begin to sweat or even liquefy, taking on a new persona.
FIND YOUR DREAM HOME OR APARTMENT
msn real estate is social
WHAT'S YOUR HOME WORTH?
HOME IMPROVEMENT PROFESSIONALS
more on msn real estate