Want a date? Get your own place
Living alone not only improves your dating prospects, but it also may mean a better social life. Young adults are more likely to see homeowners as marriage material.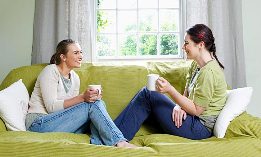 Back when I finished college, one of the top rules of dating was, "Never date a man who lives with his mother."
A generation later, when a sizable percentage of young adults are still living with mom and dad, living with one's parents is still a dating turnoff. In a Trulia survey on dating and housing, only 5% of adults said they would prefer to date someone who lived with parents.
If you need more reasons to get your own place, a new book says that people of all ages who live alone tend to have a better social life.
Post continues below
If all those living with parents couldn't get a date at all, this could boost the housing market significantly. One thing that has been holding back housing is that fewer new households are being formed as more young people live with parents. From 2005 to 2011, the percentage of men ages 25 to 34 living with parents rose from 14% to 19%, and the percentage of women living with parents rose from 8% to 10%, according to census data.
Having a roommate isn't good for one's romantic prospects, either, the survey noted. Of those surveyed, 62% said they would prefer to date someone without a roommate.
Most didn't care whether their date owns a home, though 36% of women and 19% of men said they would prefer to date a homeowner.
Among young people ages 18 to 24, 44% thought homeownership signaled a readiness for other long-term commitments, such as marriage. But older respondents were less likely to share that view.
The Trulia survey also asked people what makes them fall in love with a house. Both men (64%) and women (75%) picked the master bath. That was followed, among both men and women, by a walk-in closet and a gourmet kitchen, though women valued all those things more than men did. A hot tub scored low on the list, with both genders more interested in a deck, hardwood floors, a home theater and a pool.
While Valentine's Day celebrates coupling, more people are living alone in the United States today than at any time in our history. The percentage of households containing just one person has risen from 13% in 1960 to 28% in 2011.
The percentage of one-person households is higher in large urban areas, with nearly 50% of New York households containing just one person. In Seattle, San Francisco, Denver, Philadelphia, Chicago and Washington, D.C., one-person households make up between 35% and 45% of all households.
In his new book, "Going Solo: The Extraordinary Rise and Surprising Appeal of Living Alone,"Eric Klinenberg writes that living alone is no longer feared and that those who live alone — far from being isolated — engage in more social interaction. He writes in The New York Times:
The mere thought of living alone once sparked anxiety, dread and visions of loneliness. But those images are dated. Now the most privileged people on earth use their resources to separate from one another, to buy privacy and personal space.

Living alone comports with modern values. It promotes freedom, personal control and self-realization — all prized aspects of contemporary life.
Are you sure you want to delete this comment?
FIND YOUR DREAM HOME OR APARTMENT
msn real estate is social
WHAT'S YOUR HOME WORTH?
HOME IMPROVEMENT PROFESSIONALS
more on msn real estate