Foreclosure filings at lowest level in 56 months
Analysts caution that the first-quarter data don't indicate the crisis is over, noting that the number of foreclosure starts has increased in each of the past four months.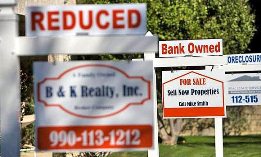 Foreclosure filings in the first quarter of this year were at the lowest level in more than four years, but analysts say that doesn't mean the foreclosure crisis is over.
Continuing a trend from the previous quarter, the number of foreclosure filings continued to fall, according to first-quarter 2012 data from RealtyTrac.
The number of properties that were the subject of a foreclosure action — a default notice, scheduled auction or bank repossession — fell to 572,928 for the quarter. That was down 2% from the last quarter of 2011 and down 16% from the first quarter of 2011.
Post continues below
That means that one in every 230 U.S. housing units was the subject of a foreclosure filing during the first quarter.
While the decline in foreclosure filings has held for two quarters, that trend is not likely to continue, RealtyTrac analysts cautioned.
"The low foreclosure numbers in the first quarter are not an indication that the massive reservoir of distressed properties built up over the past few years has somehow miraculously evaporated," Brandon Moore, chief executive officer of RealtyTrac, said in a news release.
He noted that foreclosure activity has picked up considerably in states with mandated judicial foreclosures, where the robo-signing crisis had previously slowed the process. The number of foreclosure starts nationwide increased 7% from February to March, the fourth straight month of increase. That indicates cracks in the dam, Moore said.
"The dam may not burst in the next 30 to 45 days, but it will eventually burst, and everyone downstream should be prepared for that to happen — both in terms of new foreclosure activity and new short-sale activity," Moore said.
The 26 states that require foreclosures to go through the courts posted an 8% increase in foreclosure action from the previous quarter and a 10% increase over the first quarter of 2011.
States with the most notable increases year to year include:
Indiana: 45%
Connecticut: 38%
Massachusetts: 26%
Florida: 26%
South Carolina: 26%
Pennsylvania: 23%
By contrast, foreclosure filings declined in nonjudicial-foreclos​ure states, where the process was not slowed as much by document issues, in most cases. States with the most notable declines year to year include:
Arkansas: 79%
Nevada: 62%
Washington: 55%
Arizona: 41%
Texas: 31%.
California: 21%
FIND YOUR DREAM HOME OR APARTMENT
msn real estate is social
WHAT'S YOUR HOME WORTH?
HOME IMPROVEMENT PROFESSIONALS
more on msn real estate