Hot in kitchens: Darker cabinets, pullout faucets
Homeowners are seeking more open-concept kitchens and fewer cherry cabinets. Computer areas and polished chrome are also rising in popularity.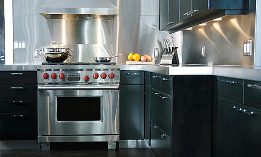 More Americans are renovating their kitchens, the American Institute of Architects reports.
According to a survey of AIA members, the trend in kitchen design that has grown most in popularity is opening the kitchen to the living area. The only other kitchen project that grew significantly in popularity was universal design, perhaps a nod to aging baby boomers who need more accommodation.
The project showing the greatest decline in popularity was the creation of a larger pantry space.
Post continues below
"During the lowest points of the housing downturn, kitchen design fell as a priority. However, this space is once again the real heartbeat of a home, with open design and integration with other living space," AIA chief economist Kermit Baker said in a news release. "The last few years have seen kitchens take on new functions with dedicated computer areas and recharging stations."
The National Kitchen and Bath Association also surveys its members about trends in kitchen design. These are five major trends identified in the latest annual survey:
Less cherry wood. The percentage of designers specifying cherry in one of their projects has dropped from 80% two years ago to 69%. No single wood has emerged as the new look, though we were surprised to see that oak had grown in popularity, from 11% to 22%.

Darker finishes. Customers who choose a wood look are continuing to move toward darker hues. For customers who want painted cabinets, white remains the most popular color. Distressed finishes are also making a comeback -- though I hope they look better than the antiquing job I did on my parents' cabinets around 1970.

Glass backsplashes. Natural stone and ceramic tile remain more popular, but not as popular as they were.

LED lighting. Customers are interested in energy efficiency. But while they are embracing LEDs, they are not calling for compact fluorescent bulbs.

Pullout faucets. "Designers are increasingly eschewing the standard faucet with a detached side spray in favor of pull-out models that integrate the two functions into a single unit," the NKBA wrote in a

news release

. Separate pot-filling faucets are losing popularity.
Home trends that were seen in both kitchens and baths were more transitional styles, more solid-surface countertops and the return of polished chrome.
What's in your dream kitchen? Do these trends reflect what you'd choose?

Considering quartz countertops by Cambria. Looks as good as granite with none of the upkeep (according to the salesman). If you have had an experience with quartz countertops, please let me know. Thanks!
Also, I guess we will buckle to "peer pressure" and get the stainless appliances. I think they look great in pictures, but they do require lots of wiping for the finger prints. Surely someone makes a material that looks like stainless steel but doesn't require constant wiping???



When we remodeled our 1950's kitchen, we had the dirty oak with shellac finish repainted an off white & had moulding added to the doors to update the look. We used the new textured formica which is really inexpensive & looks just as good as granite. I had heard so many people complain about finger prints on stainless that we went with black appliances.  Our kitchen turned out great & even if the designers turn up their noses at our style, we love it.   The best thing is to get what you like & have a style that you can live with for a LOT of years.

I don't like granite counters and I don't like dark cabinets!  I want my kitchen to look light & airy not dark & depressingt!
I also don't want to make more work for myself by installing granite counters...tooo much you have to do to keep them nice.  I'll take my old style counter tops any day!...just wipe & go!
Who cares what "style" is in and who decides what is "in"??????????  I don't have this "thing" in me that I have to be like everyone else or "show off" my possessions.  Just like so many people make a big fuss about what vehicle you/they drive...who cares as long as it is dependable?

Design updates in the home is indeed a trend these days. Probably due to the economic downturn, home owners are finding better ways of upgrading their home areas. Being in the closets Bergen industry, we (
http://www.closetsnb​eyond.com)
think that having darker cabinets is a bold choice compared to the past.
Are you sure you want to delete this comment?
FIND YOUR DREAM HOME OR APARTMENT
msn real estate is social
WHAT'S YOUR HOME WORTH?
HOME IMPROVEMENT PROFESSIONALS
more on msn real estate