Beverly Hills weighs curbing teardowns
Unlike many California cities, the tony enclave has no historic-preservation law. The potential destruction of a 1955 home designed by a famous architect has put the issue on the table — again.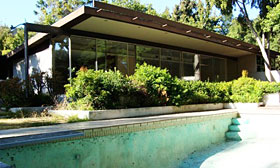 The 7,900-square-foot house was marketed as a teardown, despite the fact that it was designed by Richard Neutra, one of Los Angeles' pre-eminent architects of the 20th century.
But the 1955 midcentury-modern home on two acres next to Madonna's California place has become a rallying cry for those who say it's finally time for Beverly Hills to join other Southern California cities and enact a historic-preservatio​n ordinance.
"There is something wrong with having a historically important building and you take out a demolition permit and 10 days later you can take a sledgehammer to it," Beverly Hills Mayor Barry Brucker said to The Associated Press.
According to the mayor, the city hadn't needed a preservation ordinance before because its residents wanted to restore architecturally significant properties.
But new residents want to tear down the smaller — by Beverly Hills standards — homes with a history so they can build big McMansions. The average size of a new single-family home in Beverly Hills is more than 7,300 square feet, up from 4,200 square feet in the 1970s, The AP reported.
Post continues below
The latest discussion of a preservation ordinance came about after a company named Soda Partners LLC bought the Neutra-designed home at a foreclosure auction for $5.8 million in January. The 1955 house was known as the Kronish House because it was built for developer Herbert Kronish.
Neutra, born in Vienna, studied with Frank Lloyd Wright and was an influential architect in Los Angeles, designing structures from the late 1920s to the late 1960s. He died in 1970, but his son Dion has continued the business.
The property was initially advertised as a teardown, with "huge upside potential as a major estate." The listing contained no mention of its architectural provenance and no interior photos. After preservationists complained, the listed was revised to include photos and a reference to Neutra. (Curbed L.A. has the history.) Asking price is $13.99 million.
Whether the architectural integrity of the house has been destroyed with "Home Depot" additions over the years and whether it can be saved, and at what cost, are the subject of some disagreement. Curbed L.A. has details about the condition of the house and many photos. The Los Angeles Conservancy, which is fighting for preservation, has information about the history of the house.
This isn't the first fight over historic preservations in Beverly Hills. The question is whether this fight will yield any more protection than previous fights have won.
As Curbed L.A. writes: "A lot of good buildings have died or been mortally wounded in the fight for protection in Beverly Hills over the years — John Lautner's Shusett House, Douglas Fairbanks and Mary Pickford's famous Pickfair estate, the domed Beverly Theater."
For now, the owners have agreed to delay demolition until October while the city works on a preservation ordinance. The key, of course, is deciding exactly what deserves preservation in a city full of famous residents.
"You have homes that various famous lived in, but does that make them historic?" Brucker said to The AP. "You have famous architects, but they may not be the architect's most famous work. So I really want to send things off to the planning commission so we're not all over the map and protecting a home that Ozzy Osbourne lived in or [David] Beckham lived in just because they were famous."

While I agree that an owner putting up the "$" should be able to do reasonably  pretty much,
as he, or she pleases. There is some merit in maintaining the integrity of a city!
Historical mainly focuses on the outside structure of the building. Permits to upgrade the interior
to more livable conditions should normally not be an issue. 



Beverly Hills is a constantly evolving city. There are a very few buildings that would represent any architectural style that needs protection. One should not protect the house because it was designed by a certain architect or because someone famous lived there. The owners know the best what to do with the property. The decision whether to protect it or not should be theirs because that would ensure the best use of the residential lots in the city. 
As you touched on, it is very difficult for local municipalities to "decide" what is historic and what is not.  These committees must also realize the implications to the property owner when such a determination is made - in many cases this designation is not a benefit to the current or future owner/s.
In most cases, being a historic landmark prevents a new owner from doing as he pleases with their new home - no new kitchen, no new baths etc. without the local historic preservation committee's involvement and approval.
So again, a very delicate issue.  Sometimes what appears as good intentions can cause harm.  
Zoning codes - now that's where the local municipality needs to concentrate if the teardown issue has everyone up in arms.
Thanks,
Are you sure you want to delete this comment?
FIND YOUR DREAM HOME OR APARTMENT
msn real estate is social
WHAT'S YOUR HOME WORTH?
HOME IMPROVEMENT PROFESSIONALS
more on msn real estate