Report: Foreclosures cost neighbors $1.95 trillion
Study seeks to quantify the equity lost by homeowners from nearby foreclosures betwen 2007 and 2011. Minority communities have suffered disproportionate losses, according to the report.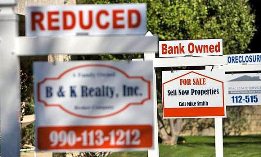 We all know that foreclosures inflict "collateral damage" and drag down property values for the entire neighborhood.
The Center for Responsible Lending has now quantified the cost: Americans have lost nearly $2 trillion in equity from nearby foreclosures, according to a new report, "Collateral Damage: The Spillover Costs of Foreclosures."
That's just the equity lost by the neighbors from homes that entered the foreclosure process between 2007 and 2011, not the losses incurred by the foreclosed homeowners themselves or the costs to communities in lost tax revenue and higher crime rates. It's estimated that Americans have lost $7 trillion in equity during the foreclosure crisis.
Post continues below
"CRL's report is troubling evidence of how much the economic costs of foreclosures are spilling over into communities all over America," Wade Henderson, president and CEO of the Leadership Conference on Civil and Human Rights, said in a news release. "Communities of color, which have been targeted for years by predatory lenders and abused for years by mortgage servicers, have been practically drowning."
More than half that $1.95 trillion in lost equity came from minority homeowners, the group said, whose neighborhoods have suffered disproportionately from the foreclosure crisis and the scourge of bad subprime loans.
A number of lenders have faced legal action for failing to maintain foreclosed properties in minority neighborhoods.
According to the center's calculations, the average loss of equity from nearby foreclosures is $21,000, or 7% of median home value. In minority neighborhoods, the average loss was $37,000, or 13% of median home value.
Other research has found that foreclosures also contribute to a rise in crime and a decline in health.
"Once you get one or two or three foreclosures on a block, you start really creating all kinds of negative spillover effects on the neighborhood, and crime is just one of them," Georgia Tech professor Dan Immergluck said last year in a report on the MarketPlace radio program. Immergluck has studied foreclosure effects on communities and is the author of "Foreclosed: High-Risk Lending, Deregulation, and the Undermining of America's Mortgage Market."  
FIND YOUR DREAM HOME OR APARTMENT
msn real estate is social
WHAT'S YOUR HOME WORTH?
HOME IMPROVEMENT PROFESSIONALS
more on msn real estate