$1 billion house uninhabitable?
The owner of the world's first 10-figure home says he can't sleep in it, according to reports.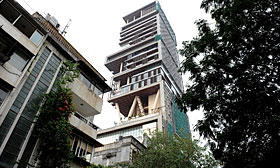 Maybe this will help home prices increase: In some parts of the world, a cool billion dollars won't even buy you a house in which you can sleep at night.
That's apparently the case in Mumbai, where Mukesh Ambani, the richest man in India and among the 20 wealthiest people in the world, reportedly will not spend a night on any of the 27 floors of his tower, named Antilia. He, his mother, his wife and their three children instead pass their days in the building, then move to a 14-story home called Sea Wind to sleep, reports the "Architizer" blog.
By the way, when it was completed for $1 billion, Antilia was the most expensive home ever built.
Post continues below
The reason, according to the Engineering News-Record, has nothing to do with a lack of night lights or proper sheet thread count in the house, which does have three helipads and 160 parking spots for folks who wouldn't mind crashing till morning. It has to do with the construction, and the potential that U.S.-based architects Perkins & Will and Hirsch Bender Associates did not account for the Indian doctrine of Vastu Shastra.
Typically associated the design of Hindu temples, Vastu Shastra precepts call for a balance of the five natural elements — air, earth, space, fire and water — among other things. This may help explain the house's pool and "ice room," in which snow flurries reportedly fall from the ceiling.
And yet, from the Engineering News-Record:
According to the principles of Vastu Shastra, a home's eastern side should have enough windows or other openings to let residents receive sufficient morning light. The Ambani home fails on that and other counts, reportedly leading the family to believe that moving in will bring them bad luck ...
Reports of Ambani's hesitance to call Antilia home have actually been around since last fall. At the time, The New York Times also speculated that other forces may be in play:
Muslim political leaders and other critics said the land was sold for only a small fraction of its market value. Ambani acquired the property in an auction, and his spokesman has denied allegations that he paid less than the land's market value.

As Antilia was nearing completion, many Mumbai residents criticized the building as an ostentatious display of wealth in a country where most people live on less than $2 a day and a city where more than half the population lives in slums. … Gyan Prakash, a history professor at Princeton University who wrote the book "Mumbai Fables," said the criticism could have influenced the family's decision not to make Antilia their full-time residence.
A spokesman for Ambani's Reliance Industries has denied that the family does not live in Antilia.
Although Vastu Shastra is different from the Chinese practice of feng shui, the practices are sometimes associated with each other, and each has gained some ground in the U.S. in recent years.
One primary difference: According to Vastu Shastra, remodeling may not necessarily change the structure's metaphysical plan.
— Tony Stasiek is a producer/editor at MSN Real Estate.
FIND YOUR DREAM HOME OR APARTMENT
msn real estate is social
WHAT'S YOUR HOME WORTH?
HOME IMPROVEMENT PROFESSIONALS
more on msn real estate