Yes, you can build a house for $20,000
Architecture students take on affordable housing in rural Alabama as a class project. So far, they've designed 10 interesting, inexpensive homes.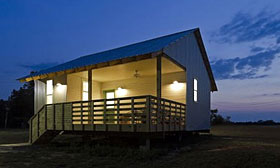 Six years ago, a group of Auburn University architecture students were presented with a challenge: Could they build a house that people dependent on public assistance in rural Hale County, Ala., could afford?
From that challenge, the $20,000 house project was born.
Since 2005, the students participating in the university's Rural Studio have designed and built 10 different $20,000 houses, which have gone on to become homes for people who previously had lived in substandard housing. The students have kept in touch with the residents to see how they use the homes, to further refine the designs.
"We came up with the number $20,000 because it is the amount people on government assistance could actually afford to pay – the mortgage is only around $100 a month. Also, the homes would be an investment for the person, appreciating in value over time," Andrew Freear, the Rural Studio's director, said in an interview for the university website. "We are trying to get these houses to be built by a contractor, so it is actually about $12,000 in materials and about $7,000 to $8,000 in labor and profit. That was the challenge we put to ourselves."
The first house was about 780 square feet. The most recent house measured 530 square feet, plus a large porch.
The $20,000 houses may be smaller than your standard double-wide trailer, but they are superior in a number of ways. They are more energy-efficient, which means lower utility bills, important to people struggling to get by on limited incomes.
They are also sturdier and don't deteriorate and lose value as quickly as a trailer does.
Post continues below
The latest $20,000 house was featured in The Wall Street Journal. It was built in a square rather than a rectangle because it's more economical to build that way and cheaper to heat because the furnace is in the middle. And it looks less like a trailer.
Freear talked to Krista Tippett of Public Radio International's "Speaking of Faith" program a few years ago about
how the students work with the clients
who will inhabit the houses. He explained it this way:
"For my students, we don't really talk about it being charity, I'll be actually frank to you. The, what we see as being the exchange that's taking place here is that our client is a good and willing and interested and observant and rigorous and questioning client. And that's the privilege that we have in that situation. Yes, we will work with you. We want to listen to you. We want you to be very critical about what we do. Don't just say give us anything. 

"And we work with people who don't know what an architect does, so we have to educate them as to what an architect can bring to a situation. We educate them to understand drawings, to engage in a conversation about spaces, to engage in, you know, the question of, what do you want? When people have never been asked what they want. We make lots of models. We make lots of perspectives, so people can begin, or at least try to begin, to imagine themselves in that place, because they have never been asked to do that before. They've never been asked to imagine before. And that's an amazing situation to be in as a student, I think."  
The Rural Studio hasn't yet come up with a $20,000 house that can be easily replicated nationwide, but the students are working on it.
FIND YOUR DREAM HOME OR APARTMENT
msn real estate is social
WHAT'S YOUR HOME WORTH?
HOME IMPROVEMENT PROFESSIONALS