Listing of the Week: 'Amityville Horror' double
This riverfront New Jersey home was used in exterior shots of the 1979 film. Divorce, not ghosts, is prompting the sale at $935,000.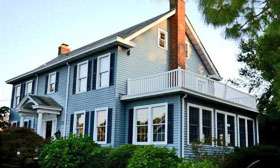 Just in time for Halloween, we've found a home for sale that appeared in "The Amityville Horror" film.
But you don't have to worry about ghosts, owner Odalys Fragoso says. This home in Toms River, N.J., served as a double for the home in Amityville, Long Island, whose owners reported being haunted by the angry spirits of the six people murdered there in 1974.
Post continues below
The Amityville stunt-double house has no ghosts, angry or otherwise. "It's not that the house is haunted or anything," Fragoso told CNN. "We had wonderful times in that house."
She and her husband, Jose, have been trying to sell the two-story Colonial house since last year because they are divorcing. Since May, the couple has cut the price from $1.25 million to $935,000.
The Fragosos' riverfront home was built in 1920. It's on half an acre, with a pool, a dock and a two-car garage. It has four bedrooms and five baths in 3,370 square feet.
"The property alone, being on that river, you have that southern exposure, it's just a beautiful home," listing agent Donna Walesiewicz told CNN.
The Fragosos bought the home in 2001 for $795,000. They first listed it for sale for $1.45 million in June 2011.
According to a story at the New Jersey Newsroom, the makers of the 1979 film paid the owners of the Fragosos' home $15,000 to use it for exterior shots. If you think the real house doesn't look much like the movie, it could be because the filmmakers modified the building to look like the real house in Amityville.
The real "Amityville Horror" house, a five-bedroom, three-bath Dutch Colonial on the Amityville River, sold for $950,000 in 2010. The new owners were more afraid of gawkers than of ghosts. "It is my dream house -- our dream house," David D'Antonio, a retired math teacher and Amityville native, told Newsday in 2010. "There's nothing the matter with it other than the outside people."
FIND YOUR DREAM HOME OR APARTMENT
msn real estate is social
WHAT'S YOUR HOME WORTH?
HOME IMPROVEMENT PROFESSIONALS
from our partners