Is this a good time to buy your first home?
Experts disagree. One argues that conditions have never been better, while another says that prices are still going to fall at least 20% more. Who is right?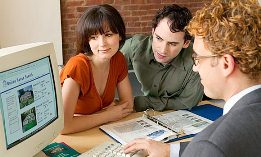 Is this a great time to buy your first home? It depends on whom you ask.
The Wall Street Journal recently ran a point-counterpoint set of arguments from two experts who strongly disagree on whether this is the right time for first-time homebuyers to jump into the market.
Eric Lascelles, chief economist at RBC Global Asset Management, says this is the best time in a generation to be a first-time homebuyer. "Affordability is the best it has been in 30 years, thanks to the combination of a 34% decline in prices since the 2006 peak and a historically low 4% average rate for a 30-year, fixed-rate mortgage," he writes.
Post continues below
Plus, he adds that it is cheaper to buy than to rent in 98 of 100 major U.S. markets.
Gary Shilling, president of the economic firm A. Gary Shilling & Co., disagrees, saying homes are likely to lose at least an additional 20% in value in the next few years.
"The problem is excess inventories. They are the mortal enemy of prices, and we've calculated an excess of 2 million housing units, over and above normal working levels of inventories of new and existing homes," he writes. "That is huge, considering that before the housing market collapsed, about 1.5 million new homes were being built annually, a figure that shrank to 568,000 in February. At current rates of housing starts and household formation, it will take four years to work off the excess inventory, plenty of time for those surplus houses to drag down prices."
How do you know who's right?
Two key factors that can't be included in any national analysis but that should be part of your personal analysis:
What's the market like not just in your city, but in your desired neighborhood? If prices drop an average of 20% nationwide, that doesn't mean they will drop at all where you want to live. Or they may drop more.

Is this the right time in your life to buy a house? Do you have a stable job you expect to keep? Do you have money saved for a down payment and repairs? Are you likely to stay in the house at least five years?
If you're living in a one-bedroom apartment and expecting your second child, this may be an excellent time to buy a house, before you lose your mind – unless the circumstances of your life and of your community make renting a better bet.
The WSJ is running a poll. So far, 66% of respondents believe it's a good time to be a first-time homebuyer.
Where do you come down? Do you think this is a good time for first-time homebuyers to get into the market?
FIND YOUR DREAM HOME OR APARTMENT
msn real estate is social
WHAT'S YOUR HOME WORTH?
HOME IMPROVEMENT PROFESSIONALS