Report: Returning veterans can't afford homes
The professions for which returning servicepeople are training don't pay enough to cover a mortgage in many cities, the Center for Housing Policy says.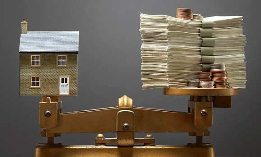 Returning veterans who train for new jobs still may not be able to afford housing in many U.S. cities.
And that goes for a lot of other people, too. A new study by the Center for Housing Policy looks at 74 occupations and whether the median incomes in those professions are enough to afford either a median-price home or the rent on a one- or two-bedroom apartment.
"In many housing markets, the jobs America's servicemen and women may find waiting for them after deployment do not pay enough to afford the costs of buying a home, and in some markets and for some occupations, veterans cannot afford the costs of renting a modest rental home," said Laura Williams, author of the latest edition of Paycheck to Paycheck, in a news release.
Post continues below
The report looked at five occupations for which returning veterans are being trained: carpenter, dental assistant, electrician, firefighter and truck driver.
Only one of those professions — electrician — pays enough for a worker to afford the mortgage, using nationwide statistics. Dental assistants can't afford the rent on a two-bedroom apartment.
Nationwide, the median salary in only 31% of the 74 professions studied was enough to buy a home at the national median price of $162,000, which is down from last year's median price of $165,000. A total of 54% earned enough to pay the rent on a two-bedroom apartment.
If you're wondering how your city and your profession stack up, you can try out different scenarios using interactive graphics here.
In many large U.S. cities, only a minuscule percentage of the occupations have a high enough salary to afford a median-price home.
Here are the cities with the lowest percentage of workers in these occupations who can afford a median-price home:
San Francisco: Median price of $549,000, 0%
Barnstable, Mass: $275,000, 1%
Bethesda, Md.: $305,000, 1%
Boulder, Colo: $299,000, 1%
Bridgeport, Conn.: $305,000, 1%
Cambridge, Mass.: $310,000, 1%
Honolulu: $409,000, 1%
Los Angeles: $295,000, 1%
Napa, Calif.: $300,000, 1%
New York : $400,000, 1%
Other cities in which only 1% of workers can afford a median-price home are Ocean City, N.J.; Oxnard, Calif.; San Diego; San Jose, Calif.; San Luis Obispo, Calif.; Santa Ana, Calif.; Santa Cruz, Calif.; Santa Fe, N.M.; and Suffolk-Nassau, N.Y.
In only 89 of the 208 cities would workers in at least 50% of the professions be able to afford the mortgage on a median-price home. In 56 of the cities, fewer than least 50% could afford a two-bedroom apartment.
The cities in which the greatest percentage of professions had median incomes large enough to afford to buy a median-price home were:
Springfield, Ohio: Median price of $66,000, 97%
Youngstown, Ohio: $75,000, 93%
South Bend, Ind.: $69,400, 93%
Detroit: $78,000, 93%
Wheeling, W.Va.: $73,000, 92%
Saginaw, Mich.: $75,000, 92%
Bay City, Mich.: $75,000, 92%
Dayton, Ohio: $81,000, 89%
Rockford, Ill.: $87,000, 88%
Mansfield, Ohio: $80,000, 88%
About Teresa Mears
Teresa Mears is a veteran journalist who has been interested in houses since her father took her to tax auctions to carry the cash at age 10. A former editor of The Miami Herald's Home & Design section, she lives in South Florida where, in addition to writing about real estate, she publishes Miami on the Cheap to help her neighbors adjust to the loss of 60% of their property value.
msn real estate is social
FIND YOUR DREAM HOME OR APARTMENT
WHAT'S YOUR HOME WORTH?
HOME IMPROVEMENT PROFESSIONALS
from our partners