14-year-old buys distressed house for $13,000
The Florida teenager earned the money by selling items salvaged from foreclosed homes. With her share of the $700-per-month rent, she may buy a second home.
In 14-year-old Willow Tufano's neighborhood, the real-estate crisis has meant living surrounded by vacant homes, in the foreclosure epicenter of Florida.
It has also meant a chance to earn some real money, selling items no one wants out of foreclosed homes handled by her real-estate agent mother.
Now, Willow has become a landlord, after buying her first house for $13,000.
Her two-bedroom, one-bath home is in Port Charlotte, Fla., where property is worth about one-third of what it was at the peak. CNN Money picked Port Charlotte, a town on Florida's Gulf Coast with a population of about 48,000, as one of the best places to retire in 2009. At that time, the average three-bedroom house cost about $170,000.
Post continues below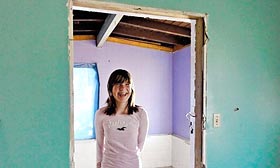 Willow's house is modest, just 679 square feet, built in 1959 of concrete block, as most Florida houses are. You can see what the house looked like when she bought it here.
"There was glass everywhere. There was a dirty couch tipped over," she told NPR.  "Nothing was worth anything. It was like there was a riot or something."
Minors can't own real estate in Florida, so Willow bought the house with her mother, Shannon Moore, who paid for half. Willow hopes to buy out her mother by the time she's 18. She may even buy another house.
Willow's house last sold for $28,500 in 1987. We don't know what it would have sold for at the peak of the market in 2006, but Zillow's estimate is $85,000. The county assessed the house last year at $17,815.
There are 281 homes listed for sale in the same ZIP code, at prices ranging from $17,000 to $2.89 million. Port Charlotte is about 35 miles north of the Fort Myers-Cape Coral area, which suffered one of the biggest drops in home values in the nation.
After cleaning up the home with help from her family, the teenage entrepreneur rented it to a young couple and their baby for $700 a month, which she splits with her mother.
Willow, who is home-schooled, says she is not sure she wants to follow her mother and grandmother into real-estate sales. But she likes being an investor.
"Investing is really cool," she told Susanna Kim at the ABC News Consumer Reports blog. "You get to see a property that was a mess before and afterward see that it's beautiful."
FIND YOUR DREAM HOME OR APARTMENT
msn real estate is social
WHAT'S YOUR HOME WORTH?
HOME IMPROVEMENT PROFESSIONALS
more on msn real estate