Bottom line: Housing hasn't hit bottom
The latest S&P/Case-Shiller numbers seem to indicate price declines are slowing, but the foreclosure pipeline is still flowing.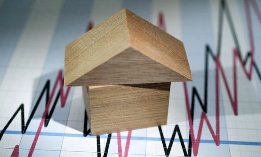 You may be puzzled by reports about the latest S&P/Case-Shiller housing statistics. Some headlines say prices rose and some say prices fell. And some say prices may be stabilizing.
All of those things are true. Here's the bottom line: We don't yet see the light at the end of the tunnel.
Prices in the 20 major metro areas tracked for the indexes rose 1.1% in June, the third straight month of increases. That looks like good news, but prices usually rise in the summer. Looking at seasonally adjusted figures, prices fell 0.1% in June.
Prices are down 4.5% compared with last year at this time. Prices rose 3.6% in the second quarter of 2011, after falling 4.1% in the first quarter. The second quarter 2011 prices were 5.9% below second quarter 2010 prices.
Prices are down to their 2003 levels nationally and lower than that in some cities. In Detroit and Las Vegas, prices are below 2000 levels, and they're barely above 2000 levels in Cleveland and Phoenix.
With short sales and foreclosures making up 30% of the market, and another 1.7 million foreclosures likely still to come, there is a good chance prices will fall further in many areas. But all real estate remains locals, and the cities won't move in sync.
Post continues below
"Looking across the cities, eight bottomed in 2009 and have remained above their lows. These include all the California cities plus Dallas, Denver and Washington, D.C., all relatively strong markets," David M. Blitzer, chairman of the Index Committee at S&P, said in a news release.
"At the other extreme, those which set new lows in 2011 include the four Sunbelt cities – Las Vegas, Miami, Phoenix and Tampa – as well as the weakest of all, Detroit.
"These shifts suggest that we are back to regional housing markets, rather than a national housing market where everything rose and fell together."
If you want to see how your city did, The Wall Street Journal has an interactive graphic of the 20 major metro areas that make up the 20-city index. You can find detailed data from S&P/Case Shiller here.
"Prices aren't going to rebound back rapidly," Paul Dales, a senior U.S. economist at Capital Economics in Toronto, told Bloomberg. "Most people think that when the downturn ends the recovery will be pretty good, but that's not going to be the case at all."
Here are the metros in the 20-city index that lost the most value from June 2010 to June 2011:
Minneapolis, down 10.8%.

Portland, Ore., down 9.6%.

Phoenix, down 9.3%.

Chicago, down 7.4%.

Tampa, down 7%.
And the cities that did the best:
Washington, D.C., down 1.2%.

Boston, down 2.1%.

Denver, down 2.5%.

Los Angeles, down 3.4%.

New York, down 3.6%.
Bottom line? Stephen Gandel of Time's The Curious Capitalist blog, sums it up:
What does this mean for the housing market recovery? It means you shouldn't expect housing prices to recover in a meaningful way anytime soon. Even with the recent three month run, housing prices still remain down 4.5% from a year ago, and 33% below their peak. Patrick Newport, who is the U.S. housing economist at IHS Global Insight, predicts that "foreclosures, excess supply and weak demand" will push housing prices down another 10%. If we hit a recession, the possibility of which IHS now puts at 40%, then home values will drop even more. So much for housing market's 2011 spring awakening.

Unfortunately, the banks are making it a long drawn out procedure to purchase a home even when both parties have a 800 credit rating!!  The big banks have to get real.  We recently purchased a home with 35% down and both our credit ratings were 800+ and the bank took three months to approve, scrutinized every aspect and requested some pretty petty things.  I understand that the banks got themselves into a lot of trouble (ie Barney Frank and his give it all away attitude) by giving out tons of money to people who no way in hell could afford the mortgage to begin with but for those who DO qualify lighten up!!!
Are you sure you want to delete this comment?
About Teresa Mears
Teresa Mears is a veteran journalist who has been interested in houses since her father took her to tax auctions to carry the cash at age 10. A former editor of The Miami Herald's Home & Design section, she lives in South Florida where, in addition to writing about real estate, she publishes Miami on the Cheap to help her neighbors adjust to the loss of 60% of their property value.
msn real estate is social
FIND YOUR DREAM HOME OR APARTMENT
WHAT'S YOUR HOME WORTH?
HOME IMPROVEMENT PROFESSIONALS
from our partners