Kardashians' latest Miami home for sale
The North Miami mansion the sisters rented for the current season of 'Kourtney & Kim Take Miami' is for sale. Asking price is $14.5 million.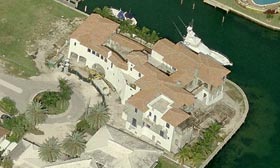 If you like the house where Kim and Kourtney Kardashian are living in the latest episodes of "Kourtney & Kim Take Miami," it can be yours.
The celebrity sisters rented the 16,500-square-foot home last fall from the owner of a construction company, and he has listed it for sale for $14.5 million.
We somehow totally missed the fact that the Kardashian sisters had decamped from South Beach to considerably more plebian North Miami. The Kardashian home is in a wealthy enclave known as San Souci Estates, on a spit of land jutting into Biscayne Bay. The property has water on two sides.
Post continues below
According to The Wall Street Journal, the home also has a basement that can accommodate 10 cars, which is extremely unusual for South Florida. We suggest they move the cars if a hurricane approaches.
While North Miami is not nearly as tony as South Beach, it has some beautiful waterfront areas, and the Kardashian mansion has a spectacular wide-bay view to the east and a canal on the north.
Plus, unlike in Miami Beach, where the neighbors put the kibosh on plans for filming, the North Miami neighbors at least tolerated the hoopla, and the mayor gave the Kardashians the key to the city.
The listing isn't online yet, so we checked some online sites and the county property records. The original home was built in 1964, but it either was substantially renovated or torn down and replaced within the past few years. The house has eight bedrooms, 11 full baths and three half baths. It also has a gym, plus an upstairs massage room that faces the bay, a two-bedroom guest house connected by a breezeway and a waterfront pool.
The current owner paid $2.75 million in 2007, then spent four years renovating the property, according to the WSJ story.
In other Kardashian real-estate news, Kim Kardashian and Kanye West reportedly have already sold the Los Angeles mansion they bought in January, perhaps at a $1 million profit.
FIND YOUR DREAM HOME OR APARTMENT
msn real estate is social
WHAT'S YOUR HOME WORTH?
HOME IMPROVEMENT PROFESSIONALS