Listing of the Week: Midcentury modern house with a star pedigree
Scarlett Johansson and Ryan Reynolds bought the 1969 Los Angeles house during their marriage. Now they are divorced and asking $3.65 million.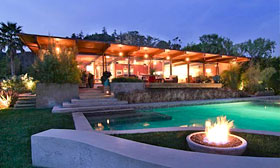 We've already written this week about big homes for big men.
Our Listing of the Week is a more modest home for those who like midcentury modern with a view.
Include among them are Scarlett Johansson and Ryan Reynolds, who bought this single-story home in the Los Feliz neighborhood of Los Angeles in 2010, when they were happily married. Shortly after they paid $2.9 million for the 2,835-square-foot house, the marriage broke up. The house went on the market this week for $3.65 million.
Post continues below
The house is built in classic post-and-beam style. Its claim to fame is its walls of windows in all the public rooms, overlooking a large saltwater pool and a spectacular city view.
The actors did some work on the house, including adding solar panels. "Totally restored and upgraded to eco-friendly in the last year," the listing says.
The house has two bedrooms, a den, a library, three baths and an attached two-car garage. The listing says it comes with plans for a second story.
The almost half-acre compound is gated and private, "the perfect celebrity hideaway," according to the listing. It's in Los Feliz (Spanish for "the happy ones" and mispronounced los FEE-liz in L.A.), about 10 minutes north of downtown Los Angeles.
The house was designed by the famous architectural firm of Buff & Hensman and built in 1969. It's known as the Wong house, though we could not unearth any details on the Wongs or the house's history.
Several reports listed the home as being one of the Case Study houses, designed after World War II as examples of new design for the common people, but the list we found seemed to indicate that's not so. Buff & Hensman did a Case Study house in 1958 in Altadena, not too far away.
The Real Estalker notes that if Johansson and Reynolds get their price, it would be a 30% markup, though we don't know how much they spent on renovation. They surely will do better than Johansson did on a previous house in Los Angeles, which she bought for $7 million in 2007 and sold for $4 million three years later.
Are you sure you want to delete this comment?
FIND YOUR DREAM HOME OR APARTMENT
msn real estate is social
WHAT'S YOUR HOME WORTH?
HOME IMPROVEMENT PROFESSIONALS
from our partners