Listing of the Week: 'Peach mansion' with airport
This Delaware home, built in 1866 and restored in the past decade, is on 15 acres with an airstrip and a thoroughbred farm. List price: $1.2 million.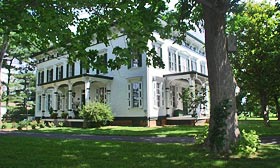 It's rare we find an opportunity to get a mansion with an airstrip for less than an outrageous price.
So when we found a Civil-War era mansion with its own airport for sale in Middletown, Del., we decided to spread the word. In fact, not only can you get the house and the airstrip, you get a working horse farm, though it is unlikely the horses are included. Asking price is $1.2 million.
The 5,500-square-foot home, known as Okolona Plantation, was built in 1866 and is on the National Register of Historic Places. It has six bedrooms and five baths, and there is also a three-bedroom, two-bath guest house. Far from being a fixer-upper, the house has been fully renovated, according to the listing, and is ready to move into. You can see 64 photos and a virtual tour online.
Post continues below
The current owners, Paul and Christine Berkeley, bought the property in 2000 for $475,000 and spent seven years and hundreds of thousands of dollars restoring the home, according to articles in The News-Journal. The home suffered substantial damage in a fire in 2007, and the couple took the opportunity to add such modern conveniences as air conditioning during the reconstruction, while remaining true to the architectural details.
The property is on 15 acres, which includes buildings and facilities for a thoroughbred farm. The Federal Aviation Administration-certi​fied airport has a 1,300-foot runway.
The home was built by R.T. Cochran, of one of Delaware's prominent families, during Middletown's heyday as a peach-producing region. The home is one of a number of Italianate "peach mansions" built during that time. A blight known as "the yellows" wiped out the crop around 1900, and no peaches are grown commercially in the area today.
About Teresa Mears
Teresa Mears is a veteran journalist who has been interested in houses since her father took her to tax auctions to carry the cash at age 10. A former editor of The Miami Herald's Home & Design section, she lives in South Florida where, in addition to writing about real estate, she publishes Miami on the Cheap to help her neighbors adjust to the loss of 60% of their property value.
msn real estate is social
FIND YOUR DREAM HOME OR APARTMENT
WHAT'S YOUR HOME WORTH?
HOME IMPROVEMENT PROFESSIONALS
from our partners