Listing of the Week: Al Capone's Miami mansion
The home where the late mobster lived and died — and maybe drew the ire of President Hoover — is offered for $9.95 million.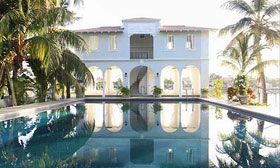 We all like a home with history.
Here's a chance to own a home that was positively notorious: the Miami Beach home where Al Capone died in 1947. Asking price is $9.95 million, but that could be negotiable. The home has been on the market for most of the past nine months.
You can be assured there are no bullet holes in the walls. The 6,103-square-foot home underwent an extensive renovation, with care to ensure the preservation of its historic character, after the current owner took possession last year. It has seven bedrooms, five bathrooms and two half-bathrooms.
Post continues below
The home is on a 30,000-square-foot lot with 100 feet of Biscayne Bay frontage on an island between Miami and Miami Beach. It has an enormous 30-by-60-foot pool that Capone added after he bought the house, reportedly for $40,000, in 1928. Capone also added a guesthouse, a two-story cabana house for his guards and a wall around the compound.
The two-story Mediterranean-style house was built in built in 1922 for Claude Busch, according to Mario Gomes, who has an extensive online site called My Al Capone Museum. Claude was not part of the beer-brewing Busch family, as is often reported, Gomes says. You can see many photos of the home before and after the recent renovation at this site.
After Capone died, his wife, Mae, kept the house until 1970, when she sold it to airline pilot Hank Morrison for $56,000. Morrison made a deal in 2008 to sell it to Peter Corsell, founder of the company Grid Point, for $5.65 million, with the proviso Morrison could stay in the house three more years.
Capone reportedly planned the 1929 St. Valentine's Day Massacre in the house, then established an alibi by being seen on Miami Beach that day.
The best story we found while researching this post was reported on the "Belle Isle Blog."
Belle Isle is across Biscayne Bay from Palm Island, and the newly elected President Herbert Hoover stayed in J.C. Penney's mansion on Belle Isle in 1928. It was during this visit, the story goes, that Hoover decided to target Capone. There are two versions of the story. One was that Hoover was annoyed by all the shooting and noise coming from Capone's house across the bay. The other version was that Hoover was talking to reporters in the lobby of a Miami building until Capone walked in – and the reporters abandoned Hoover and rushed to Capone.
We're not sure if either of those stories is true, but Capone did spend 11 of the years he owned the house imprisoned in Alcatraz for tax evasion.
FIND YOUR DREAM HOME OR APARTMENT
msn real estate is social
WHAT'S YOUR HOME WORTH?
HOME IMPROVEMENT PROFESSIONALS
from our partners