Listing of the week: Marco Rubio's Miami home
The home, listed for $675,000, is considerably larger than others in the 'working-class' neighborhood. The asking price is more than Rubio paid at the height of the boom.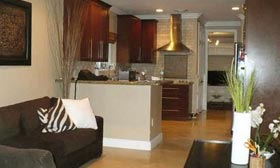 If you want to follow in the footsteps of Sen. Marco Rubio, who gave the Republican response to President Barack Obama's State of the Union message this week, perhaps you'd like to own his home.
The Miami Republican is selling the two-story home he bought new in 2005. Asking price is $675,000.
Because prices in Miami have fallen about 50% since 2005, we're not sure why Rubio thinks his home is worth so much more than the $550,000 he paid near the height of the market. Perhaps he is trying to cover his mortgages. The home has been for sale since November.
Post continues below
Rubio's home became news -- though not quite as famous as his water bottle -- after he mentioned it during his speech:
Mr. President, I still live in the same working-class neighborhood I grew up in. My neighbors aren't millionaires. They're retirees who depend on Social Security and Medicare. They're workers who have to get up early tomorrow morning and go to work to pay the bills. They're immigrants, who came here because they were stuck in poverty in countries where the government dominated the economy.
The house is a typical two-bedroom new Florida suburban tract house: two-story living room, two-car garage, marble tile floors. The 2,649-square-foot home is not typical of the neighborhood, being both larger and newer. Only two of the 35 single-family listings for sale in the 33144 ZIP code are more expensive, and they are significantly larger, more than 4,800 square feet.
The neighborhood, west of Miami proper but much closer to downtown than many of the city's suburbs, is mostly well-kept older concrete-block and stucco homes, most less than 2,000 square feet. 
Rubio's home has four bedrooms and 3.5 baths, plus a pool with a nice patio area, on a 7,351-square-foot lot at the end of a cul-de-sac.
According to The Daily Caller, Rubio wants to move his wife and four children to Washington, D.C.
FIND YOUR DREAM HOME OR APARTMENT
msn real estate is social
WHAT'S YOUR HOME WORTH?
HOME IMPROVEMENT PROFESSIONALS
from our partners