Home prices up 7.6% over last year
Data from the National Association of Realtors show that single-family home prices rose in 120 of 149 markets tracked in the third quarter, but fell in 29 others.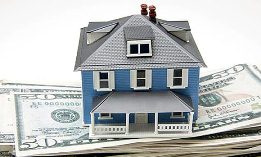 Sale prices for single-family homes rose in 120 of the 149 markets tracked by the National Association of Realtors in the third quarter, showing a 7.6% increase nationwide over the same period last year.
The national median home price stood at $186,100, up from $173,000 a year ago, when 39 markets showed an increase in prices year over year.
The number of homes available for sale was down 20% from the same period last year. The small number of homes for sale in many cities is helping to raise prices.
Post continues below
"Housing inventories have been gradually trending down from a record set in the summer of 2007," Lawrence Yun, the NAR's chief economist, said in a news release. "Earlier this year, a broad equilibrium began to develop in most areas between homebuyers and sellers, which led to a sustained upturn in home prices."
He predicted "fairly normal appreciation patterns" for next year, but warned that prices could rise more if the supply of homes for sale does not increase.
While some of the cities hardest hit by the real-estate bust showed the biggest gains from last year, 29 cities showed price declines from the third quarter of 2011.
The cities showing the greatest increase in median single-family home prices from the third quarter of 2011 to the third quarter of 2012 were:
Phoenix-Scottsdale: 34.9%

Cape Coral-Fort Myers, Fla.: 37.6%

Akron, Ohio: 26.9%

Boise City, Idaho: 21.9%

Lansing, Mich.: 9.5%

Tucson, Ariz.: 18.5%

Bismarck. N.D.: 16.1%

San Francisco-Oakland: 15.5%

Fort Wayne, Ind.: 15.4%

San Jose, Calif.: 14.6%
Other major cities showing double-digit increases included Detroit, 13.8%; Minneapolis-St. Paul, 13.2%; Las Vegas, 12.4%; Miami-Fort Lauderdale, 12%; and Denver, 10.5%.
The cities showing the greatest decrease in prices were:
Raleigh-Cary, N.C.: 16.1%

York-Hanover, Pa.: 9.4%

Binghamton, N.Y.: 6.6%

Madison, Wis.: 4.3%

Tallahassee, Fla.: 3.8%
Among other major cities showing a decline in prices were Chicago, down 1.8%; Tampa-St. Petersburg, down 0.6%; Knoxville, Tenn., down 0.6%; Boston and suburbs, down 0.5%; and Albuquerque, N.M., down 0.3%.
You can click on the map or check the tables if you want to see data for a particular city.
FIND YOUR DREAM HOME OR APARTMENT
msn real estate is social
WHAT'S YOUR HOME WORTH?
HOME IMPROVEMENT PROFESSIONALS
more on msn real estate