Listing of the Week: Ellen's and Portia's estate
The couple are selling the compound they amassed, renovated, decorated and even got married at. In seven years, they've owned seven homes.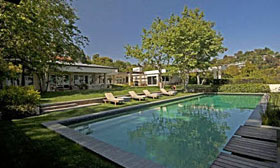 Today we go into the high-end celebrity world for our Listing of the Week: Ellen DeGeneres' and Portia de Rossi's three-acre compound in Beverly Hills, Calif.
The property includes a 9,200-square-foot main house, plus a separate three-bedroom house and two guest houses, a pool and great city views. It's offered for $49 million, a big price even in Beverly Hills, but at that price it may not be a profitable deal for its owners.
DeGeneres likes real estate and has bought and sold more homes than she can count. She and De Rossi have owned seven homes in the seven years they've been together, and they were married on the grounds of this house. The couple also have another property on the market, a 26-acre equestrian paradise with eight cottages in Hidden Valley, Calif.
The Beverly Hills spread is featured in this month's Architectural Digest.
Post continues below
"We never had a house when I was growing up," DeGeneres said to Architectural Digest. "We always rented. But my father would dream, and we used to look at houses all the time. I'd pick out which bedroom would be mine and get all excited."
From the interview with AD:
"The first thing I did when I made money was buy a house. And then —"

"Another one," De Rossi says. "And another one and another one and another one ..."
If you want to read the rest of the story, you'll have to buy the magazine, which comes out Oct. 11.
But you can see the Architectural Digest photos here and even more photos at the listing agent's website.
The Real Estalker outlined the history of the property:
In the fall of 2007, the property-mad pair coughed up an almost unbelievable $29 million for the main portion of the compound, which they bought from residuals-rich Will & Grace co-creator Max Mutchnick. A few months later, the compound-loving ladies shelled out an additional $8.5 million for the property next door that they razed and replaced with a serene, watery garden with long views down the rugged, mansion-dotted canyons and over the twinkling lights of La-La Land.

The following June, the real-estate flip-floppers spent $5 million for an adjacent fixer-upper and, just a month later, they shelled out another $5.5 million for a hillside house with oblique views into the backyard of the main house. Altogether, according to our ever-present bejeweled abacus, the Misses DeGeneres and de Rossi dumped an astonishing 48 million clams for the various properties that comprise the compound, not counting renovation and customization costs.
Rumors that the property was on the market began last February, and it was listed for sale last spring at an undisclosed price, rumored to be $60 million. It reappeared this week in the multiple-listing service with an asking price of $49 million.
Lookers have included Formula One Racing heiress Tamara Ecclestone, perhaps seeking a spread to rival that of her sister Petra, who bought Candy Spelling's 57,000-square-foot home for $85 million in June. But Ellen's and Portia's place apparently wasn't what Ecclestone was looking for.

how can a person like me feel so sad that they cannot sell their 49 million dollar estate.  Braggers are all that they are.  I have excellent credit, owe no bills except for l credit card (small balance), cannot get refinanced (I owe  the money) for $143,00.00, now why would I cry for their soup, you have got to be joking.  All they want to do is brag about what they have and you don't have, nor will you have a chance to fix your own financial situation as long as these jokers keep getting so much money.  Not from me, not a cent even for cover girl, ha, ha, ha.

This is obscene. I know it's Beverly Hills where the prices of RE are outrageous and celebrities have special needs, but this is the epitome of aloof conspicuous consumption. One would think they would be embarrassed to live in  a place that  could equal 500 modest homes for people that don't have any place to stay, but I guess that when most people get more money than they could ever hope to spend, they turn into insensitive, uncaring jerks.
Are you sure you want to delete this comment?
FIND YOUR DREAM HOME OR APARTMENT
msn real estate is social
WHAT'S YOUR HOME WORTH?
HOME IMPROVEMENT PROFESSIONALS
from our partners