Former Fannie Mae chief: Don't blame homeowners for bust
Franklin Raines, who left Fannie in 2004, says investors, not homeowners or the government, are responsible for the crisis. Others disagree, and some blame Fannie Mae.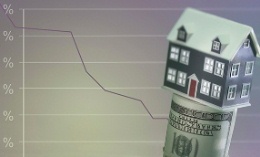 Investors, not homeowners, were responsible for the real-estate crash, according to the former chief executive of Fannie Mae.
Franklin Raines, who left Fannie Mae in 2004, made his comments last week at a National Community Reinvestment Coalition challenge.
He challenged the contention that the crisis was caused by homeowners who bought when they shouldn't have or bought more home than they could afford. Government policies to encourage homeownership also were not to blame, he said.
Post continues below
"This has nothing to do with the average American family wanting to own a home," Raines said, according to The Wall Street Journal. "This was rank speculation that was being financed out of Wall Street with no questions asked. That is what caused this crisis. Blaming people — ordinary people — who tried to own a home for this crisis is simply wrong."
Numerous politicians, pundits and organizations have sought to place the blame for the crisis on various players: homeowners, lenders, the government, Fannie Mae and others. U.S. Housing Update lists 10 reasons for the bust, including speculators and loose lending.
A Financial Crisis Inquiry Commission report issued in January 2011 blamed "widespread failures in financial regulation; dramatic breakdowns in corporate governance; excessive borrowing and risk-taking by households and Wall Street; policymakers who were ill-prepared for the crisis; and systemic breaches in accountability and ethics at all levels."
But commission member Peter Wallison wrote a dissent casting blame on Fannie Mae. He wrote in an op-ed in The Wall Street Journal: "Far from being a marginal player, Fannie Mae was the source of the decline in mortgage underwriting standards that eventually brought down the financial system. It led rather than followed Wall Street into risky lending."
Another speaker at the conference, Richard Cordray, director of the Consumer Financial Protection Bureau, took issue with the assertion that the Community Reinvestment Act, passed in 1977 in an effort to make credit available for home purchases in low-income neighborhoods, was the cause of the bust. He said: "Some have argued that the Community Reinvestment Act is responsible for the mortgage crisis. We disagree. Sound underwriting and reasonable access to credit are both worthy goals and they can and should go hand in hand as we build stronger communities."
What do you think? What role, if any, did homeowners and government policy to encourage homeownership have in causing the bust?
About Teresa Mears
Teresa Mears is a veteran journalist who has been interested in houses since her father took her to tax auctions to carry the cash at age 10. A former editor of The Miami Herald's Home & Design section, she lives in South Florida where, in addition to writing about real estate, she publishes Miami on the Cheap to help her neighbors adjust to the loss of 60% of their property value.
msn real estate is social
FIND YOUR DREAM HOME OR APARTMENT
WHAT'S YOUR HOME WORTH?
HOME IMPROVEMENT PROFESSIONALS
from our partners