Sleek house built with old car parts
Salvaged roofs become siding and windows become awnings in the hands of 'green' architects, who have also used car parts on other projects.
Architects Cate Leger and Karl Wanaselja believe in green design and finding new uses for old materials.
So when they built their own house in Berkeley, Calif., they came up with an innovative reuse idea: The siding of the upper story of their home is made from 100 salvaged car roofs. The awnings are made of Dodge Caravan windows.
Post continues below
"The hardest part was picking the cars, because cars that end up in junkyards are in pretty bad shape usually, so not only was I selecting on condition, no dents, as few nicks as possible and paint not coming off in sheets," Wanaselja said in a video at Fair Companies.
The finished product looks anything but junky. Wanaselja searched the car graveyards for roofs in shades of gray and silver, which he had cut into varying rectangular shapes to create the siding. "I was inspired by fish scales," he said.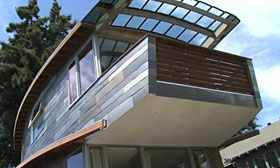 Finding the Dodge Caravan windows was easier than finding the roofs, he added.
The 1,140-square foot house also included other repurposed materials and was built in a passive solar style, with large windows on the south and west. Walls are plaster rather than wallboard for better insulation, and the floors are concrete. The house cost about the same amount to build as other homes in the neighborhood, not counting Wanaselja's free labor scouting out the car parts.
A shed on the narrow urban lot is made from car trunks and other parts, and the architectural office shared by the two is made from an old shipping container.
Wanaselja has
long been fascinated by automobiles
– his parents raced cars -- and Leger Wanaselja Architecture has used recycled car parts in other projects, including a condo project in Berkeley. Those buildings include glass rear hatches of Mazda RX-7s as stair railings, windows from Volkswagen Karmann Ghias as bathroom shelves and Porsche 924 hatches as awnings. Old street signs became siding, outdoor lights, stair railings, eaves and fences.
Leger told Dwell: "It's a way of expressing our values and an outlet for our creative channels." 
FIND YOUR DREAM HOME OR APARTMENT
msn real estate is social
WHAT'S YOUR HOME WORTH?
HOME IMPROVEMENT PROFESSIONALS