What's in a name? Higher home value, study finds
An academic study found that buyers were willing to pay more for a home if the subdivision had the word 'country' in its name. 'Country club' was even better.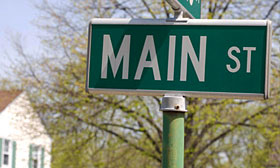 Would you pay more to live in a subdivision with a better name?
According to a study, you very well might.
Velma Zahirovic-Herbert and Swarn Chatterjeem of the University of Georgia studied 21 years of real-estate transactions in Baton Rouge, La. They found that homes in subdivisions with "country" in the title sold for 4.2% more. Add the word "club" and you add an additional 5.1% to the sale price.
The word "estates" on the other hand, didn't add a penny to the value, they mention in a footnote. The study attempted to control for all the other features of the homes, including location.
What they found was that people were willing to pay for perceived prestige, maybe even more than they were willing to pay for good schools.
Post continues below
".. our research supports literature on conspicuous consumption within a real property context, including the ideas that wealthier buyers pay more to showcase affluence and that conspicuous consumption decreases during market downturns," they wrote in a 125-page report. The study was recently published in the Journal of Real Estate Research.
A 1997 newspaper story mentioned the popularity of subdivision names that connoted wide expanses of land, even in developments with small lots. "You've got to include wood, water or topography," Tim Rife, who used to name subdivisions for a developer, told the reporter.
Zahirovic-Herbert and Chatterjeem noted that a prestige name added less value to homes during a recession.
The real-estate industry has long known that people are willing to pay more for certain amenities in a home, as well as for a larger home.
The University of Georgia researchers say the intangibles that add to a home's perceived value need more study. They conclude:
This is the first study to find through empirical research that buyers are willing to pay more for certain property names, with all other attributes of a house being equal. In fact, buyers of more expensive houses may be willing to pay more for a name that conveys prestige than they are willing to pay for a good school for their children. This implies that a more deliberate and empirically based study of property names could enable significant improvements in return on investment for investors and long-term homeowners. In addition, some assumptions about the primary drivers of home values may be challenged; buyers' perceptions of real property attributes may prove as valuable as or more valuable than the real utility of some attributes.
FIND YOUR DREAM HOME OR APARTMENT
msn real estate is social
WHAT'S YOUR HOME WORTH?
HOME IMPROVEMENT PROFESSIONALS