Anti-foreclosure program falls far short of goal
The Congressional Oversight Panel estimates that by the time the Obama administration's loan-modification program ends in 2012, it will have helped only 700,000 borrowers instead of the original goal of 3 million to 4 million.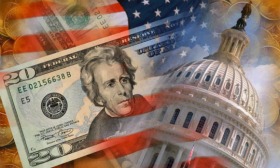 Back in the early days of the Obama administration's loan-modification program, "Listed" wrote that one reason there weren't higher rates of modifications was that the incentives simply weren't worth it.
A year and a half later, the Home Affordable Modification Program is on track to save just 700,000 homeowners from foreclosure by the time it ends in 2012, according to the Congressional Oversight Panel, and I doubt anybody is surprised.
It's a far cry from the 3 million to 4 million homeowners the anti-foreclosure program aimed to help, made even more dramatic by the 8 million to 13 million foreclosures that the panel says are expected by 2012. (Bing: Are there more foreclosures to come?)
And the report says it's time for the Treasury Department to own up to the program's flaws. Although the department continues to state that HAMP will use up $30 billion in funding from the Troubled Asset Relief Program, the panel estimates it actually will spend only around $4 billion. From the report:
Had Treasury acknowledged this reality before its crisis authority expired, it could have reallocated the money to a more effective program. Now, that option is gone. Absent a dramatic and unexpected increase in HAMP enrollment, many billions of dollars set aside for foreclosure mitigation may well be left unused. As a result, an untold number of borrowers may go without help -- all because Treasury failed to acknowledge HAMP's shortcomings in time.
The report also notes that it's too late for Treasury to revamp the program, but it has made some recommendations to help make the program more beneficial, including:
Making it easier for borrowers to apply for a loan modification, such as through an online application.
Carefully monitoring and even intervening when borrowers fall behind on their HAMP-modified mortgages.
The report also is critical of Fannie Mae's and Freddie Mac's role as the overseers of the program, which it says has resulted in conflicts of interest because of their "critical business relationships with the very same servicers." But the panel's not blaming Fannie and Freddie:
Treasury bears the ultimate responsibility for preventing such conflicts of interest, and it should ensure that loan servicers are penalized when they fail to complete loan modifications appropriately.
Are there any answers in this report? No, and it looks like all of those homeowners who have been struggling to get a loan modification may continue to struggle. But as panel Chairman Ted Kaufman told The Wall Street Journal about the mere 700,000 who will be helped, "It's not what we were all hoping for, but it is something."
What other recommendations do you think the panel could have made that would be even more beneficial for borrowers hoping for a modification?

The first this that the program wasn't made to help those in need the most.  The people that were upside down on their loans.  You apply for a modification and wait 3 to six months to hear back from your loan servicer and they tell you that you don't qualify for the president's program.   So then you have apply for what ever the bank try and do for you.   The banks aren't willing to really help you especially if you're trying to do it yourself.   They just string you along.
Are you sure you want to delete this comment?
FIND YOUR DREAM HOME OR APARTMENT
msn real estate is social
WHAT'S YOUR HOME WORTH?
HOME IMPROVEMENT PROFESSIONALS
more on msn real estate