Shadow inventory keeps shrinking
Foreclosures in the market are unlikely to impede the recovery, according to the latest CoreLogic data. The number of properties likely to end up as bank-owned is down 12.3% over last year.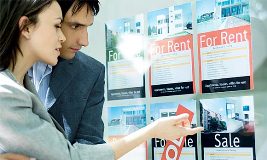 That big boogeyman, the shadow inventory, continues to shrink into the, er, shadows.
The number of homes in the shadow inventory declined to 2.3 million in October from 2.6 million in the same month the previous year, a decline of 12.3%, according to the latest calculations from CoreLogic.
"The size of the shadow inventory continues to shrink from peak levels in terms of numbers of units and the dollars they represent," Anand Nallathambi, president and CEO of CoreLogic, said in a news release. "We expect a gradual and progressive contraction in the shadow inventory in 2013 as investors continue to snap up foreclosed and [bank-owned] properties and the broader recovery in housing-market fundamentals takes hold."
CoreLogic arrives at its numbers by calculating the number of properties that are seriously delinquent, in foreclosure or bank-owned, but not listed in the multiple listing service, then predicts which delinquent properties are likely to end up as bank-owned.
The national numbers mask what actually is a varied picture nationwide. Forty-five percent of the distressed mortgages are in only five states: Florida, California, Illinois, New York and New Jersey. Those states were responsible for 51.3% of the properties that were seriously delinquent, in foreclosure or bank-owned last year.
Four of those five states -- all but California -- require foreclosures to go through the court system, which keeps properties in limbo longer, often two years or more. Foreclosures in those states were also slowed by the "robo-signing" scandal, in which lenders filed bad court documents, and the foreclosures remained on hold until new documents were filed.
The national numbers indicate a shadow inventory of manageable size. In fact, what has happened in many areas, even those with lots of foreclosures, is that would-be buyers can't find anything to buy.
A Zillow analysis last fall found that the inventory of homes for sale had declined by more than 40% in many California cities between September 2011 and September 2012.
"Almost half of the properties in the shadow are delinquent and not yet foreclosed," Mark Fleming, chief economist for CoreLogic, said in the news release. "Given the long foreclosure timelines in many states, the current shadow-inventory stock represents little immediate threat to a significant swing in housing-market supply. Investor demand will help to absorb the already-foreclosed and [bank-owned] properties in the shadow inventory in 2013."

Selling more Kool-Aide. 
Investors have an exit strategy that will involve flipping out of their inventory starting in the next 12-18 months.  Banks intend to flip out of their inventory of REO and new foreclosures in the same time frame just before QE stops and rates start escalating.  Builders will have lots to build on in about 12-18 months, and will start production at higher rates.  Existing property owners will probably wait too long, but will eventually try to dump their homes as they see the inventory numbers rise and prices start to decline.  Problem is, rates will be too high, and the market will suddenly be burdened with too much inventory.
Big Head Fake...
Let's call shadow inventory what it really is. Banks screaming for you to get the f@ck out of their house, then they rescind that foreclosure and leave ex-homeowners with the delinquent back property taxes, as well as dilapidated yards and destroyed structures that the city, county, state bilk the ex-homeowners for, while the banks get away with it. 
Are you sure you want to delete this comment?
FIND YOUR DREAM HOME OR APARTMENT
msn real estate is social
WHAT'S YOUR HOME WORTH?
HOME IMPROVEMENT PROFESSIONALS