Listing of the Week: Winery with a castle
This California property includes vineyards, a winery, two houses and a castle, all for $7.9 million. But you'll need to know how to run a business.
Many people dream of owning a winery. Can't you just see yourself sitting on the veranda, drinking a glass of excellent wine and looking out across the verdant hills at your grapevines?
Of course, the reality of owning a winery includes a lot more working than sitting. If you're still interested, perhaps you should get one that comes with a castle. Asking price is $7.9 million.
For sale in Paso Robles, Calif., is a 25-acre property with a 17,000-square-foot winery, an 8,500-square-foot tasting and event facility, 11 acres of grapevines and two houses. The castle, complete with a moat, was completed in 2007 and is a popular venue for weddings.
Post continues below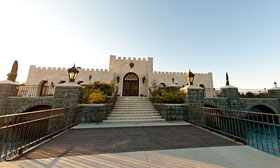 Eagle Castle Winery owners Gary and Marylou Stemper were inspired to build the castle by their travels in Europe, where they stayed in castles in Ireland, Germany and elsewhere.
"I thought, wouldn't it be fun if people could share what we shared and what inspired us in the beginning?" Marylou Stemper told The San Luis Obisbo Tribune in 2006, when the castle was under construction. "And travel changes you -- you come back a different person, the way you think, the way you cook, the way you feel."
The property was first listed for sale for $9 million in November 2011, taken off the market in February and then relisted this month at the lower price.
If you think a owning a winery or a vineyard estate is in your future, Forbes has some advice before you buy.
"The purchase of a vineyard estate is half emotion and half logic," John C. Bergman, founder of the real-estate company Bergman Euro-National, told Forbes. "You should buy a vineyard that will cover its costs and make you a little money on the side for a nice lifestyle."
If this winery-vineyard -- and they are not the same thing, Forbes notes -- is not the right one for you, Realtor.com has details on other wine properties for sale.
About Teresa Mears
Teresa Mears is a veteran journalist who has been interested in houses since her father took her to tax auctions to carry the cash at age 10. A former editor of The Miami Herald's Home & Design section, she lives in South Florida where, in addition to writing about real estate, she publishes Miami on the Cheap to help her neighbors adjust to the loss of 60% of their property value.
msn real estate is social
FIND YOUR DREAM HOME OR APARTMENT
WHAT'S YOUR HOME WORTH?
HOME IMPROVEMENT PROFESSIONALS
from our partners