Bank to pay $7,500 for denying loan to lesbians
The case against Bank of America was the first of its type since the Department of Housing and Urban Development issued new anti-discrimination rules.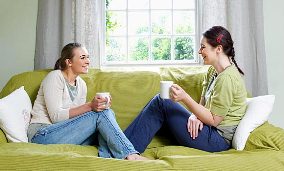 Bank of America has agreed to pay $7,500 to settle allegations that it refused to grant a loan to a lesbian couple because of their marital status and sexual orientation.
The case is the first of its type since the Department of Housing and Urban Development issued a new rule requiring equal access to housing in HUD programs regardless of sexual orientation or gender identity. That rule says lenders cannot base decisions about loans backed by the Federal Housing Administration on sexual orientation, gender identity or marital status.
Post continues below
"The HUD Equal Access Rule means just what it says: One's sexual orientation, gender identity or marital status is not a legitimate basis on which to deny a mortgage," John Trasviña, HUD's assistant secretary for fair housing and equal opportunity, said in a news release. "Members of the housing industry should take note of this settlement agreement. HUD will enforce its regulations to make sure its programs are truly open to all qualified families."   
The rule also applies to all other housing program administered by HUD.
It's not unusual for unmarried couples -- or other people who are unrelated, such as business partners -- to seek a mortgage together.
In this case, two women, who were not identified in the HUD press release, were seeking to buy a home together in South Daytona Beach, Fla., using an FHA-backed mortgage. Because one did not have a job, her mother agreed to be a co-signer.
Everything went fine until one business day before the closing, HUD said, when "BOA denied the mortgage because it did not consider the loan applicant and the co-applicant directly related because the applicant and her partner were not married."
Bank of America agreed to pay HUD $7,500, update its training programs and remind its employees they are prohibited from discriminating against FHA loan applicants on the basis of sexual orientation, gender identity or marital status.
There was no immediate comment from Bank of America, but HUD praised the lender for "taking immediate corrective action after HUD notified BOA of the violation."
FHA mortgages are routinely granted to unmarried couples, though it's important to make sure both people are legally protected. You can read more about FHA mortgages here.
About Teresa Mears
Teresa Mears is a veteran journalist who has been interested in houses since her father took her to tax auctions to carry the cash at age 10. A former editor of The Miami Herald's Home & Design section, she lives in South Florida where, in addition to writing about real estate, she publishes Miami on the Cheap to help her neighbors adjust to the loss of 60% of their property value.
msn real estate is social
FIND YOUR DREAM HOME OR APARTMENT
WHAT'S YOUR HOME WORTH?
HOME IMPROVEMENT PROFESSIONALS
from our partners