More homeowners underwater on mortgages
23.1% of borrowers owe more than their homes are worth. If prices keep falling, the number could rise to nearly one-third.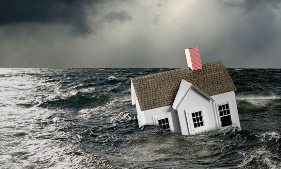 Falling home prices at the end of last year pushed more homeowners underwater on their mortgages. Nationwide, 23.1% of homeowners who have mortgages owed more than their homes were worth at the end of last year, up from 22.5% in the third quarter of 2010, according to new data from CoreLogic.
The percentage has fallen from 24% a year ago, not because homeowners have gained equity but because underwater borrowers have slipped into foreclosure.
With prices expected to fall an additional 5% to 10% this year, it's likely that more homeowners will slip into negative equity. According to CoreLogic, in addition to the 11.1 million homeowners who owe more than their homes are worth, an additional 2.4 million have less than 5% equity and are in danger of falling underwater if prices drop further.
If prices fall as predicted, the number of underwater mortgages could increase by up to 10 percentage points, CoreLogic says. That could put nearly one-third of U.S. mortgages underwater.
The report comes as state attorneys general and federal officials are negotiating with loan servicers over how services handle foreclosures and loan modifications, including whether servicers will be required to eat some of that negative equity. One proposal is to fine servicers $20 billion for lapses in foreclosure filings and loan modifications and use that money to write down principal.
But $20 billion would be just a drop in the bucket of the $751 billion in negative equity nationwide.
One key question is which borrowers would be eligible for principal writedowns. While existing mortgage-modificatio​n programs theoretically include the possibility of principal reductions, few have occurred. Lenders have argued that writing down principal would lead borrowers who can make payments to quit paying on underwater mortgages.
More than half of the negative equity, $450 billion, is owed by borrowers who are underwater by more than 50%. In Nevada, nearly 50% of borrowers are underwater by 25% or more, and in Arizona and Florida, more than 30% of borrowers are at least 25% underwater.
Many argue that people who borrowed more than their home is worth should wait until their home value rises to equal their mortgages, though in some areas that could be decades. Some homeowners are underwater on their mortgages because they bought at the height of the boom, but others used their home's former equity to pull out cash to buy other properties, take vacations or pay bills.
The problem, says Diana Olick of CNBC's Reality Check, is that the issue is dragging down the housing market and impeding recovery.
As Mark Fleming, CoreLogic's chief economist, explains:
Negative equity holds millions of borrowers captive in their homes, unable to move or sell their properties. Until the high level of negative equity begins to recede, the housing and mortgage finance markets will remain very sluggish.
The states with the highest percentage of underwater mortgages are Nevada, 65%; Arizona, 51%; Florida, 47%; Michigan, 36%; and California, 32%. Falling prices and a high number of borrowers with near-negative equity mean Alabama, Oregon and Idaho are the three states most at risk of adding underwater borrowers.
The states with the lowest percentage of underwater mortgages at the end of 2010 were Oklahoma, 5.8%; New York, 7.1%; and Pennsylvania, 7.3%. Seven states are not included in the tally because the data are not available: Louisiana, Maine, Mississippi, South Dakota, Vermont, West Virginia and Wyoming.
CoreLogic has more data and charts.
About Teresa Mears
Teresa Mears is a veteran journalist who has been interested in houses since her father took her to tax auctions to carry the cash at age 10. A former editor of The Miami Herald's Home & Design section, she lives in South Florida where, in addition to writing about real estate, she publishes Miami on the Cheap to help her neighbors adjust to the loss of 60% of their property value.
msn real estate is social
FIND YOUR DREAM HOME OR APARTMENT
WHAT'S YOUR HOME WORTH?
HOME IMPROVEMENT PROFESSIONALS
from our partners