Foreclosure numbers inch up
A new study finds that the rate of serious loan delinquency, which had been falling, rose at the end of 2011 in the 100 largest U.S. metros. Florida leads the list.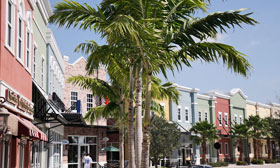 It's dueling statistics today here at "Listed," because if you look at our list of "turnaround towns" and our list of cities with the highest foreclosure rates, you'll see a lot of the same cities.
While the inventory of homes for sale may be down and listing prices may be up, the foreclosure crisis is far from over in some of the cities hit hardest by the recession.
The Center for Housing Policy, the Urban Institute and the Local Initiatives Support Corp. reported Wednesday that the rate of serious delinquency rose from 9.2% in June 2011 to 9.7% in December in the nation's largest 100 metro areas. That's down from a high of 10.5% in December 2009.
Post continues below
The Foreclosure-Response​.org data found that the percentage of loans 90 or more days past due remained stable, at 3.8%, but the percentage of homes in foreclosure has continued to rise and is now at 5.9%.
Serious delinquency includes homes in foreclosure and loans delinquent at least 90 days.
The latest statistics found that the rate of foreclosure continues to be highest in Florida. Eight of the 10 cities with the highest rate of serious loan delinquency and nine of the 10 cities with the highest foreclosure rate were in Florida.
The cities with the highest rate of foreclosure were:
Miami-Fort Lauderdale: 18.9%.

Port St. Lucie, Fla.: 16.7%.

Palm Coast, Fla.: 16.6%.

Tampa-St.

Petersburg-Clearwate​r,

Fla.: 15.9%.

Orlando-Kissimmee, Fla.: 15.6%.

Vineland-Millville-B​ridgeton,

N.J.: 14.8%.
Those also were the cities with the highest rates of serious delinquency, ranging from 23.6% to 20%. Las Vegas, with a delinquency rate of 19.6%, joined the Florida cities on that list.
The cities that showed the greatest increase in serious delinquency were:
Vineland-Millville-B​ridgeton,

N.J: up from 18.9% to 23.4%.

Atlantic City-Hammonton, N.J.: up from 14.9% to 18.1%.

Trenton-Ewing, N.J.: up from 10.2% to 12.7%.

Rockford, Ill.: up from 13.1% to 15.4%.

Danville, Ill.: up from 11.7% to 13.9%.
Another report found that the percentage of homeowners who were 60 days or more behind on their mortgage payments dropped in the first quarter of 2011, to the lowest level since 2009. TransUnion found that 5.78% of U.S. borrowers were at least 60 days late on their payments, down from 6.19% at the same time last year and 6.01% during the last quarter of 2011.
"We had a couple quarters where it ticked up, so it's nice to see it come back down," Tim Martin, group vice president of U.S. Housing for TransUnion, told The Associated Press. "That should be what happens the rest of the year, so we're hopefully on the path of improvement now."

I Hope That With The Hardship of Unemployment, Loss of High Six Figure Income and Hardship With My Wife's Cancer Returning  Very Extensive.  I Pray That Working With Bank of America for almost 3 years will end my fears and not my life,  my providing all documents they are and have requested Will Bring Good News in my retirement years.
I have served my country 6 Years Active and for the past 12+ years Department of Defense.  I have served my Family, Friends, My Country and My Bride if 45 Years.
GOD BLESS AMERICA
Are you sure you want to delete this comment?
About Teresa Mears
Teresa Mears is a veteran journalist who has been interested in houses since her father took her to tax auctions to carry the cash at age 10. A former editor of The Miami Herald's Home & Design section, she lives in South Florida where, in addition to writing about real estate, she publishes Miami on the Cheap to help her neighbors adjust to the loss of 60% of their property value.
msn real estate is social
FIND YOUR DREAM HOME OR APARTMENT
WHAT'S YOUR HOME WORTH?
HOME IMPROVEMENT PROFESSIONALS
from our partners