Abandoned foreclosures put on 'Wall of Shame'
Mayor of Seattle suburb photographs unkempt properties and posts the photos, along with the names of the lenders, on the city's website.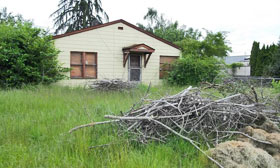 Officials of cities whose landscapes are marred by abandoned, ill-kept foreclosed homes have tried a variety of tactics to try to force lenders to keep up the properties they repossess.
In Auburn, Wash., a suburb of Seattle, Mayor Pete Lewis is photographing those homes and posting the photos on a "Wall of Shame," with the names of the lender responsible for each house included.
"They can complain if they want to," Lewis, a former banker, says of the lenders.
Post continues below
The city's website includes 19 photos today. Lenders listed include Chase, Bank of America, Wells Fargo, GMAC Mortgage, HSBC and Deutsche Bank, as well as Freddie Mac and Fannie Mae. Some posts include lenders' email addresses.
The website adds:
"Citizens who have concerns about abandoned properties and want to help the City get action on them can access information below about the mortgage holders. Citizens are encouraged to write, phone or email the mortgage holders or property preservation contacts and request action be taken on one or more abandoned properties. These efforts may help convince the mortgage holders and property preservation companies to act more quickly and consistently."
The city of about 70,000 also is using more conventional tactics: code-enforcement citations that can lead to liens against the property, which keep the home from being sold until the fine is paid and the lien is lifted.
Cities around the country have tried a variety of tactics to get lenders and loan servicers to maintain foreclosed properties. The city of Los Angeles has sued two lenders in civil court. In South Bend, Ind., neighbors have resorted to buying nearby foreclosed properties themselves.
We're skeptical that bad publicity will do much to persuade lenders to clean up their acts and their properties. But at least it gives residents information on where to direct their complaints. And the liens might get the banks' attention.
Are vacant foreclosed properties a problem in your community? What are your local officials doing?
FIND YOUR DREAM HOME OR APARTMENT
msn real estate is social
WHAT'S YOUR HOME WORTH?
HOME IMPROVEMENT PROFESSIONALS
more on msn real estate