Why Batman is about architecture
The new graphic novel about the Caped Crusader focuses on corruption and malfeasance during a Gotham City construction boom. The author was inspired by real events.
When you think about stories about architecture, Batman is not the first character who likely comes to mind.
Yet Chip Kidd, author of the new "Batman: Death by Design," sees the Batman stories as all about architecture.
"Batman is very much about architecture, as he uses the buildings as transportation and defense," Kidd told io9.com. "Great Batman stories always incorporate architecture in some way, but I hadn't seen a story that particularly dealt with that."
Post continues below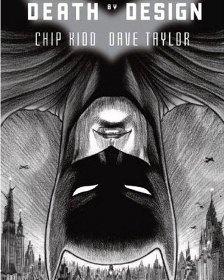 "Death by Design," set in the 1930s and drawn mostly in black and white, draws its inspiration from two real events: the demolition of New York City's Penn Station in 1963 and a series of fatal crane collapses in New York City in 2008.
The graphic novel, drawn by Dave Taylor, is set in Batman's hometown of Gotham City, where a construction boom is under way. Bruce Wayne, the millionaire industrialist who morphs into Batman, is chairman of the Gotham Landmarks Commission. A series of construction accidents threatens to bring down the construction industry. A mysterious architectural critic called Exacto issues warnings about the potential for disaster, and then those accidents happen. You will have to read the book if you want to know more.
This is how Architizer describes the look Taylor created for Gotham City:
The book's actual architectural content riffs off both Hugh Ferriss' canonical "City of Tomorrow" etches and the infrastructural quagmire of Fritz Lang's "Metropolis." Colossal stone towers spear upwards, each one with a distinct aquiline profile. Interestingly, the highest registers of the skyscrapers appear vacant or unfinished, with the actual skyline falling well short of the pinnacle heights the spires would suggest. The traditional scenario is thus flipped on its head, so to speak, where Gotham's darkest and most cavernous spaces reside not in the alleyways and ambiguous terrain of the street and sewer, but above, among the flyspace and echoing attics, abandoned penthouses and clock towers.
Kidd created his story based on his 20-plus years in New York City, which bears more than a little resemblance to Gotham City. He based an architect character on himself.
Kidd tells Wired how he came up with the story: "What real-life issues would Batman address, if he visited New York? When the crane mishap killed 10 people, it was catastrophic and could have been stopped. The graft and corruption was very 'Gotham City.' Batman works best when greed and corruption are going on. It was a good starting point."

If a homeless man walks up to you and asks for 235,000 dollars do you loan him the money. Where is your proof of income and what is the possibility that you will pay it back. Who in a transaction like a house knows more about risk,  the homeowner or the mortgage company.  The average bill, the average utility, the food needed for a household is known yet the bank loans money to the buyers and can't figure out that they can't afford the payments, interest and maintenance. Tell me that a bank who handles millions of dollars of people's money  are smater than that. We have seen that people in the business of loaning money avertise on TV about how we can trust them to handle your investements and savings. Which one has less control the people who want the house or the people who make profits by loaning you the money to buy it.  I agree that a young couple wanting to buy a bigger house for them and thier children are easily swayed by the thought.  Which one is the professional and which one is driven by emotion. Yes the homeowner is partly responsible but the professionals are the ones in the business. How good do they do it if they can't even figure out this problem. Learning to do business well is the responsibility of the people in the business not the customers.
Are you sure you want to delete this comment?
About Teresa Mears
Teresa Mears is a veteran journalist who has been interested in houses since her father took her to tax auctions to carry the cash at age 10. A former editor of The Miami Herald's Home & Design section, she lives in South Florida where, in addition to writing about real estate, she publishes Miami on the Cheap to help her neighbors adjust to the loss of 60% of their property value.
msn real estate is social
FIND YOUR DREAM HOME OR APARTMENT
WHAT'S YOUR HOME WORTH?
HOME IMPROVEMENT PROFESSIONALS
from our partners