Renters: Don't forget to ask these questions
Maybe that apartment has the dishwasher you wanted, but do you get cell-phone reception?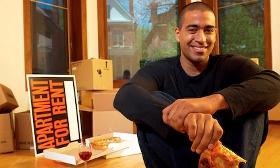 There is no shortage of rental advice, from how to find your first apartment to how to screen your landlord. But there are a lot of things you may not discover about your new digs until after you move in. And while you can't find out everything, Ilyce Glink at CBS MoneyWatch came up with a list of 10 questions renters often forget to ask.
One of the most essential questions on her list is, "Does my cell phone get reception?" It's frustrating enough to work in an office building without cell-phone reception or to spend time at a restaurant or business that deliberately blocks cell signals, but you certainly want to be able to make phone calls from your home.
Post continues below
Glink points out that because vacancies are down, some renters may think they should take what they can get, but you shouldn't settle for an apartment that won't meet your needs.
Here are a few of her other important questions (see all of them here):
How is the water pressure? No one wants deal with a shower that barely drizzles. Turn on the water, and ask a current tenant how long the water takes to get hot in the mornings, when lots of the building's occupants may be trying to get ready at once.

Are there windows, where are they, and do they open? You want to know whether you're going to get any natural light, whether your view consists of a trash can in the alley and whether you'll be able to open the windows for fresh air.

Who handles package deliveries? If you don't have a doorman in your building, what happens if you're at work when the fresh-baked cookies from your grandma in Minnesota arrive via UPS or FedEx?

What's the deal with the heat? If you're apartment hunting in the spring, you're probably not thinking about the chill of winter. But it's important to know whether your heat is controlled individually, if it's efficient and how much it generally costs during the winter months.
Keep in mind that your priorities for a home are personal, so think about what your needs and daily routines are, and make sure you find a place that suits you.
As Lee Lin, a co-founder of no-fee apartment listings website RentHop.com, puts it:
"Everyone has a different set of priorities and preferences. Some people are willing to pay an extra $200 for a terrace … Know what you want and make sure you're not overpaying for features."
If you're renting, you need to treat every apartment showing as a property inspection. Don't be afraid to poke around and make sure the place will be comfortable – and safe.
Happy hunting.
– Leah L. Culler is a freelance journalist and longtime renter. She believes that keeping up with the rental market means you have to keep on moving: She has lived in 10 rentals in six years.  She hopes to someday own her own home – and stay there awhile.
FIND YOUR DREAM HOME OR APARTMENT
msn real estate is social
WHAT'S YOUR HOME WORTH?
HOME IMPROVEMENT PROFESSIONALS
more on msn real estate