Get ready for the 'rentership' society
A new report predicts homeownership will fall to a record low because of foreclosures and tight credit.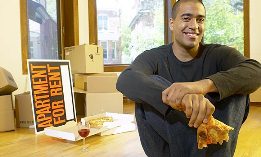 The United States is on its way to becoming a society of renters, according to a new report from Morgan Stanley.
If all those homeowners who were delinquent on their mortgages were taken out of the statistics, the homeownership rate in the United States would be only 59.7%, the lowest since the U.S. Census Bureau  began keeping records in 1965, when the rate of homeownership was 62.9%.
Calculated the conventional way, the rate of homeownership has fallen from a peak of 69.2% in 2004 to 66.4% earlier this year. But if you take the 7.5 million homeowners who are delinquent on their mortgages out of the equation and assume they are renters, that rate falls to 59.7%, according to Morgan Stanley's analysts.
The combination of the foreclosure crisis and the difficulty of getting a mortgage are turning Americans who used to own homes, and some who want to own homes, into renters, said Morgan Stanley analyst Oliver Chang.
"Taken together they are forcibly moving the country away from being an ownership society," Chang told Bloomberg in an email. "This change is only beginning, and is moving the country toward becoming a rentership society."
Post continues below
There has been a lot of talk about whether the real-estate crisis has prompted more Americans to choose to rent rather than buy. But the truth is that foreclosures and tight credit have taken the choice out of many people's hands.
A variety of economic factors may determine whether young people will get good jobs and move out of their parents' basements and form their own households, whether by renting or buying. Surveys show that young people still aspire to own their own home, but how many will be able to do so will depend on economic factors as well.
Morgan Stanley predicts many will stay renters, as Housing Wire reports:
[Reform of Fannie Mae and Freddie Mac], Dodd-Frank securitization rules, mortgage interest deduction reform, continued home price declines and a long workout period for distressed homes will likely make it harder to buy an owner-occupied home.

As such, we believe that the U.S. will become a rentership society, in which the homeownership rate will keep falling, the home rentership rate will conversely rise, and the rental market will dominate the investment landscape in housing for years to come.
What do you think? Are we on the way to becoming a nation of renters?
FIND YOUR DREAM HOME OR APARTMENT
msn real estate is social
WHAT'S YOUR HOME WORTH?
HOME IMPROVEMENT PROFESSIONALS
more on msn real estate