Life-size hobbit house made of 2,600 balloons
Artist spends 3 days creating Bilbo Baggins' house from Tolkien lore in his living room. He captured the process on video.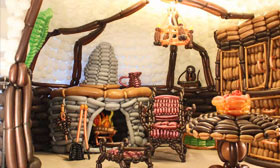 We've written about artists using a variety of materials to create houses, from fabric to Legos to Jell-O.
Now Jeremy Telford has created Bilbo Baggins' Bag End cottage from J.R.R. Tolkien's "The Hobbit" using balloons -- 2,600 of them. The project took him 40 hours over three days, and you can watch a video of how he did it here.
"The hardest part was day two," Telford told Brian Gillie of Examiner.com. "On day one I twisted 1,300 balloons and one of my fingers had gotten really swollen and I couldn't twist with it on the second day."
Post continues below
The work is life-size -- the video shows him sitting in it during and after its creation -- with the color of the balloons helping to define the space and the objects. Telford built the hobbit house in his living room in Utah, with a little help from his wife and his three young children. In case you're wondering, he did not blow the balloons up by mouth but used a hand pump.
Telford is a balloon artist by trade. He previously built a life-size motorcycle as well as a 45-foot-long T. rex dinosaur from balloons. If you want to try your hand at balloon art, he has also published an instruction book, "Balloonology."
At the end of his time-lapse video, as the camera pans over the details – a balloon "fire," basket of apples and chandelier among them – Telford reads a section from "The Hobbit" about the underground dwelling. "It was a hobbit hole, and that means comfort," he reads.
The hobbit house lasted three days in the Telfords' living room. The Telford children, ages, 2, 5 and 7, were enlisted to dismantle the creation.
Are you sure you want to delete this comment?
FIND YOUR DREAM HOME OR APARTMENT
msn real estate is social
WHAT'S YOUR HOME WORTH?
HOME IMPROVEMENT PROFESSIONALS
more on msn real estate