'Big box' McMansion: Large house, small price
Builders find success with large homes offered at a low price per square foot. Maybe Americans really do want more space.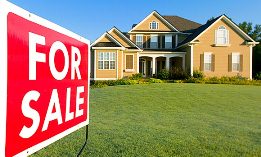 Perhaps we wrote the obituary of the McMansion a little too soon.
Some builders are finding a niche market in "big box" houses for buyers, taking advantage of a decline in construction costs to offer large homes at what used to be small-home prices, Builder Magazine reports.
Mary and Tony Wilson, who have two children, weren't looking for a seven-bedroom home when they went house-hunting in the Orlando, Fla., suburbs. But when they found out Meritage Homes could build them a brand new 4,700-square-foot, energy-efficient home for $256,990 — not including upgrades — they said why not.
Post continues below
"We looked at this big, ridiculously beautiful house, and we wondered, 'What is the catch? Why is this house so cheap?'" Mary Wilson told Builder about their visit to the model. "But there was no catch."
The big box McMansion is popular for several reasons, Builder reported:
The large houses compete favorably with foreclosures and distressed sales, many of which are smaller homes.
The homes are less likely to run into appraisal problems because of the low overall price per square foot, a key number in appraisals.
Builders that are offering the "big box" McMansions at prices well under $100 per square foot include Meritage, Lennar, D.R. Horton and KB Home. To make the numbers work, the builders usually do two-story "box on box" designs on land they acquired at a bargain price.
"We are seeing the trend [toward bigger homes] in several submarkets," Cara Kane, a KB spokeswoman, told Builder — including Florida, Texas and California. "Some of the bigger houses have a tremendous value per square foot."
The size of the average new home has been shrinking for some time, but a study last year indicates that trend may not continue. That study found that people who were considering buying new homes were looking for more space, not less.
"Americans' desire for space is still there," Mollie Carmichael, a principal at John Burns Real Estate Consulting, which commissioned the survey, told syndicated columnist Lew Sichelman.
"It's all predicated on life stages," Carmichael says. "The size of their new homes is smaller than average, but people are still moving to larger places."
What do you think? Has the McMansion come back from the dead?
FIND YOUR DREAM HOME OR APARTMENT
msn real estate is social
WHAT'S YOUR HOME WORTH?
HOME IMPROVEMENT PROFESSIONALS