Home-price picture across the U.S. is uneven
The national median home price rose 7.3%, but the variation nationwide was from minus 12.9% to plus 29.2%. Affordability declined slightly.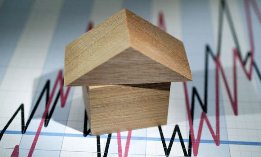 We reported last week that the median national home price rose 7.3% in the second quarter of 2012 compared with the same period a year ago. But that statistic hides the real variation in local home prices.
The range nationwide was from a drop of 12.9% to an increase of 29.2%, according to data from the National Association of Realtors. That's a pretty big range. But once you take out the 10 highest and 10 lowest, the price change fell in a narrower range: minus 4.4% to plus 12.3%.
The rise in home prices has caused affordability of new and existing homes to fall slightly, according to separate data from the National Association of Home Builders. In the second quarter of 2012, 73.8% of new and existing homes sold were affordable to families earning the national median income of $65,000. That was down from a record high of 77.5% in the first quarter of 2012.
In 110 of the 147 markets measured by the NAR, prices in the second quarter, compared with the same period last year. In 34 of the markets, prices fell. In three metro areas, prices stayed the same.
The five markets that showed the greatest increase in home values year-over-year were:
Detroit-Warren-Livon​ia,

Mich., up 29.2%. The median home price in that area stands at $60,200.

Phoenix-Mesa-Scottsd​ale,

Ariz., up 29%. The median home price was $148,400.
Boise City-Nampa, Idaho, up 27%. The median home price was $138,200.
Florence, S.C., up 20.5%. The median home price was $136,100.
Akron, Ohio, up 16.5%. The median home price was $116,700.
The next five were Buffalo-Niagara Falls, N.Y., up 16.5%; Bismarck, N.D., up 14.8%; Cumberland, Md.-W.Va., up 14.7%; Cape Coral-Fort Myers, Fla., up 14.4%; and Peoria, Ill., up 12.3%.
The five markets that showed the greatest decrease in values were:
Bridgeport-Stamford-​Norwalk,

Conn., down 12.9%. Median price was $374,900.
Edison, N.J., down 9.5%. Median price was $297,500.
Gulfport-Biloxi, Miss., down 9.4%. Median price was $100,600.
Elmira, N.Y., down 8.2%. Median price was $105,700.
Atlantic City, N.J., down 7.7%. Median price was $218,700.
They were followed by Pittsfield, Mass., down 7.6%; Charleston, W.Va., down 5.9%; Green Bay, Wis., down 5.8%; Manchester-Nashua, N.H., down 5.8%; and Hartford, Conn., down, 4.4%.

Mike who answered my post, I believe we are on the same page to a great extent; however, most people who are hurting and have been hurt by their pure honesty, don't know any other way.  They have been beaten so much in the past many years and have no place to turn.  As long as the greed is in the seed of government, business, banks,lenders, retailers, wholesalers, HUMANS to the extent that it is, we are all going to go down.  Change is what is needed, if given a chance, change can happen, but because of greed and the I want it now, today idea, we all have to suffer for the greed of a few.  Thanks for answering the post.

Everyone sees what is going on in this country today -  corporate greed and the takers.  Honet people who thought they were doing everything the right way, the american way, have been fooled into thinking that their honesty pays, look at yourselves today.  Every person who voted these jackals into office need what they got, I didn't, so I am now looking forward to that hisory repeating itself and it is called  revolution and don't laugh it off, it is coming.  We have had enough of the lies, deceit, and plain out rape of the american public all because we trusted our leaders and we have been left homeless and destitute nothing left but anger,and a revolution to jumpstart our lives again.  America it is past time to stop and smell the roses, do something NOW

I own my house, but fear I will have to eventually sell it due to being unemployed.  Finally decided the only way I will give my house up is over my dead body-I'd rather starve to death here in the dark than have to rent again.  Was homeless for 6 weeks years ago, but I had a young child to keep me going then.

To Someone - in total agreement.  It is called insider knowledge that these congreemen/women, senators both men and women/ from the president's seat to the county seat, all these government leeches to include politicians, bankers, lenders, and anyone who has gained through the destruction of the middle class working taxpayer, should all be in prison for their part in deceiving the american public.  This country knows about an american revolution, history will repeat itself because we cannot go down any further than the dirt we are in now.  I pray everyday for this country, not the politicians that are ru nning it into the ground, may they by the grace of God, lose all that was acquired by fraudulant means

First the banks tank the housing industry with liar loans and get government bailout!
This money was suppose to help HOMEOWNERS KEEP THEIR HOMES!!!!
The banks then take this money and purchase futures based on their rigged LIBOR RATE!!
The homeowners and the economy are left to die!!
CONGRESS!! THE SENATE!! THE FED!! OBAMA KNEW THIS AS WELL!!
We all know Timmy Treasuer knew this!!
Our government needs to be replaced with term limits for all!!
Are you sure you want to delete this comment?
About Teresa Mears
Teresa Mears is a veteran journalist who has been interested in houses since her father took her to tax auctions to carry the cash at age 10. A former editor of The Miami Herald's Home & Design section, she lives in South Florida where, in addition to writing about real estate, she publishes Miami on the Cheap to help her neighbors adjust to the loss of 60% of their property value.
msn real estate is social
FIND YOUR DREAM HOME OR APARTMENT
WHAT'S YOUR HOME WORTH?
HOME IMPROVEMENT PROFESSIONALS
from our partners