Would a tax break lure you to rural Kansas?
The state is hoping to lure new residents to less-populated areas with student-loan aid and income-tax forgiveness.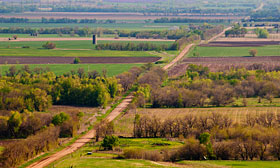 If you ever get tired of traffic, crowds and the other stresses of urban life, you may dream of moving somewhere for a smaller, simpler, quieter life.
Kansas has a deal for you.
In an attempt to draw new residents to rural counties with shrinking populations, Kansas has put together an incentive package for people who agree to move to designated "rural opportunity zones" from another state.
The deals include a five-year vacation from state income taxes and a chance to get up to $15,000 in student loans paid off, if you stay five years. The average Kansas pays $1,800 a year in state income tax.
"This is a risk-free opportunity for us to draw attention to parts of our state that are losing population and offer another incentive to get people to move to Kansas," said Sherriene Jones-Sontag, spokeswoman for Gov. Sam Brownback, in the Kansas City Star.
But is it enough to draw any new residents?
Post continues below
A handful of other rural areas, including some in Kansas, offer incentives to attract new residents, including free land, utility-bill forgiveness and tax abatement.
Even some residents of the Kansas counties that want to lure new residents are skeptical that the financial incentives are enough to woo new people.
"It's unproven," Republic County Commisioner Frank Rytych said in the Star. "It's not that we're against the program. We don't know that it's going to pan out OK. We don't want to get caught holding the bag."
One problem with the incentives is that income tax doesn't necessarily motivate many people to move.
"People simply do not make migration decisions based on income-tax issues," Laszlo Kulcsar, a demographer at Kansas State University, said in the Star.
The Census Bureau recently reported that the most common reason people had for moving in 2010 was to find a better, cheaper or different house, followed by family and employment reasons. Taxes were not anywhere on the list, and only 11% of those who moved went to another state.
Kansas officials have said that they want to compete against popular states that have no income tax, such as Florida, Tennessee and Texas. But that raises the question of why someone would choose a small town in Kansas over popular areas of Texas, Tennessee and Florida.
What, if anything, would motivate you to move to rural Kansas? Let us know below or on our Facebook page.
FIND YOUR DREAM HOME OR APARTMENT
msn real estate is social
WHAT'S YOUR HOME WORTH?
HOME IMPROVEMENT PROFESSIONALS
more on msn real estate