Working families spending more for housing
Declines in home prices have helped only those who bought since the plunge. Rising rents and falling paychecks have increased the housing burden for many.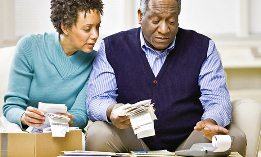 With the incredible decline in home prices in some areas, you'd expect that housing would be consuming a smaller chunk of family incomes.
You'd be wrong.
From 2008 to 2009, the number of working families paying more than 50% of their total income for housing grew by more than 600,000, according to a new report by the Center for Housing Policy.
"These findings will be surprising to many who have followed the nationwide decline in home prices," Jeffrey Lubell, the center's executive director, said in a news release. "Housing costs for existing homeowners have declined only slightly, while housing costs for working renters have actually gone up."
From 2008 to 2009, the number of working households spending more than 50% of their income on housing grew from just under 10 million to more than 10.5 million, even though the total number of working households fell by 1.1 million. The percentage of working households with an extreme housing burden rose from 21.1% to 22.8%.
Renters fared worse than owners, with 24.5% of renters paying more than 50% of their income for housing in 2009, up from 22.1% in 2008. In addition to facing declining incomes, they also faced rising rents.
Among homeowners, the percentage paying more than 50% of their income for housing rose from 20.1% to 21.2%.
As the National Housing Conference -- the Center for Housing Policy is its research affiliate -- pointed out in its "Open House" blog:
When you think about it, these findings make sense, right? Falling home prices only benefited those who bought a home in 2009. The mortgage payment didn't go down for most homeowners, even though the value of their home – and their equity – fell, sometimes dramatically. With more people looking for an affordable place to rent, it follows that vacancy rates tightened and rents rose at the bottom end of the market, as HUD's recent report suggests. And these trends occurred in the context of rising unemployment and increasing financial hardship.
The study measured households in which members work at least 20 hours a week and the family earns no more than 120% of the median income. About one-third of owner-occupied households in the United States fit into that category, as do about 60% of households that rent.
The housing burden varies throughout the country. The percentage of working households with a severe housing burden rose significantly in 25 states. Those included states hard-hit by the housing crisis, such as Florida and California, which reported the highest rate of burdened households, at 33%. States that were not hit as hard by the real-estate crisis, such as Texas, also saw an increase in the percentage of households spending more than 50% of their income on housing. No state saw a significant decline.
Among the 50 major metropolitan areas, the housing burden increased significantly in 16 and stayed about the same in the others.
These are the metropolitan areas with the largest percentage of residents paying more than 50% of their income for housing:
Miami-Fort Lauderdale, Fla., 42%
Los Angeles-Long Beach, Calif., 37%
Orlando, Fla., 35%
Riverside-San Bernardino-Ontario, Calif., 35%
San Diego, 34%
New York-Northern New Jersey, 32%
San Francisco, 29%
Las Vegas, 29%
Tampa, Fla., 29%
San Jose, Calif., 28%
Sacramento, Calif., 28%
These are the metropolitan areas where the smallest percentage of households carried a severe housing burden:
Pittsburgh, 15%
Louisville, Ky., and its Indiana suburbs, 15%
Kansas City, 6%
Cincinnati, 16%
Raleigh, N.C. 17%
Control over housing and food is how they make slaves of us all. It is why they took away homesteading rights. It forces everyone to pay someone for the basic right to have a home. We all pay through the nose for something we deserve from birth. The right to live and have a home without paying someone for that right. And the ability to provide for ourselves by using the land to create and raise our own food. We now eat what they decide with their chemicals and hormones saturated through and through. We all live at the mercy of those who control us, and I find it sickening how many people simply accept this..
A national strike until things are changed, is what is needed. Or you can continue to be pawns for someone elses gain..

You are simply not going to make it if you are paying more than one third of your income for housing.  Fortunately, for my wife and I we saved our money and paid cash for the lot and then the house we live in now.  We do not have a mortgage.  We also own a used automobile which I bought for cash so we owe nothing on it.  Just a few bills of probably total less than $400.00.  We only used our credit card in extreme emergencies.   DO NOT use the credit card for anything else.  DO NOT buy a car unless you can pay cash, new or used.  A house is a place to live in and not some great investment unless you buy it cheap for cash.  Stop being a sap for the banks and credit card companies.  They are not your buddies.  This comes from experience since my wife and I went through the financial mess some years back.  It was tough changing old habbits but we managed to do just that. 
The way we have our systems set up, there is no way these people can have access to Twitter otherwise.  Despite the name "Public Library," libraries have gotten more private.  You have to show proof of residence, or be a tourist.  You cannot be a permanent resident of the town without a proof of lease to use the internet.

Let's see if we can glean what this really means.  With rest stops also in many places not allowing overnight stay, even the axiom, "if you have a car, you have a house" is longer true.  Cross-country travelers are in virtually the same mess as the homeless if they have limited funds.

Let's go back to the homeless, and the internet. What does this really mean for the person living on the street?  It means they can't apply for any jobs online, because they can't get online.  It means they probably also can't check the local papers (provided for free) unless they have spare cash.

I am constantly very close to being homeless, I have $200 in the bank, live with my parents (who are getting old), and haven't found many decent jobs in years.  I work for people very park time for some extra pocket change at $10 an hour.

And let's review, you go to any interview, they look for two things.  On the form, they ask you place of residence.  And they expect you to be clean-shaven if you're a guy.  How you gonna find access to running water to use a razor? What would you even tell people that would allow them to hire you? They need a home to pin you to, so they can locate you in an emergency, what do you put? The address of the homeless shelter (actually, that may work)?

Until we pass a law prohibiting discrimination in employment by housing in addition to the other ones, as this housing and job crunch gets worse, you can expect the plight of these people to get worse and worse.

       


I gotta agree with you guys . My family has already lost our small home , that I somehow managed to pay on for 16 years and (nearly) managed to get 2 children raised there . Wells Fargo took it away in spring of 2010 without a second thought .  And it stands now empty ...   And suprise , I'm now paying more for rent than I did for my home . All non essentials have already been cut , and still the struggle for a roof over our head continues ......
      Given this , and the state of our union , I've got to agree with Jacque Fresco , "This **** Got To Go ".

Patrick I hate to admit it but theres a good possibility that this could be a fact......on all counts, I also work a job that has one of those 30 year plus out-of-date pay scales, I make $9.64hr and started at $8.00, and am a college educated certified welder.
    I stay in constant danger of losing my very modest home, I dont qualify for any assitance, so I often run short of food and I have student loans to pay, along with a mortgage which by coincidence is about half what rent would be! the nasty disgusting truth is I am far from being alone,some of my friends have recently lost their homes already.
None of us could be described as middle class, we are all working poor.
    Another friend of mine got forclosed on by a Japanese bank that had bought his mortgage, these sleaze buckets then proceded to offer to let him back into his home for three times the value of the house in a good market! His home had a reasonable market value of about $35,000, they offered to let him have it back for nearly $90,000!
        Add to this the artificial inflation from speculators in the oil markets, and you have the makings for a disaster of epic proportions.
   like you and everyone else I know I think our government has dropped the ball, and lost sight of reality, other governments have done a reasonably good job of looking out for their own , Ours I think has failed miserably.
     They have sat on their hands while jobs were sent over seas en-mass, the result has been nearly as bad as giving binladen a nuke and then telling him to go play!

What do you expect, when everything has gone up ten fold in the last 35 years except wages? My father made $12 an hour 30 years ago when gas was 75 cents and a new car was $5000. And guess what? People around where I live are happy to get a job for $12 an hour. Starting at $9 is more like reality. C'mon people! Where's the working wage? The housing bust is a design to take property from the middle and poor and give it to the rich at pennies on the dollar. We are slaves. I only know one way to change it and it isn'tgoing to be pretty.
Are you sure you want to delete this comment?
About Teresa Mears
Teresa Mears is a veteran journalist who has been interested in houses since her father took her to tax auctions to carry the cash at age 10. A former editor of The Miami Herald's Home & Design section, she lives in South Florida where, in addition to writing about real estate, she publishes Miami on the Cheap to help her neighbors adjust to the loss of 60% of their property value.
msn real estate is social
FIND YOUR DREAM HOME OR APARTMENT
WHAT'S YOUR HOME WORTH?
HOME IMPROVEMENT PROFESSIONALS
from our partners