Comeback: New Orleans grew the fastest since 2010
Eight of the 15 fastest-growing cities were in Texas, perhaps thanks to the real-estate bust elsewhere.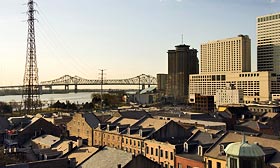 Seven years after Hurricane Katrina devastated the city, New Orleans is adding back some of its lost population.
According to new figures from the U.S. Census Bureau, New Orleans was the fastest-growing large U.S. city between April 2010 and July 2011.
The city's population grew 4.9% during that period, rising to 360,740. After Katrina, the population of New Orleans fell from 452,170 to 223,388. But the number has now risen to 360,740.
Post continues below
"You're getting a lot of people coming home," says historian Douglas Brinkley, who wrote a book about the disaster, "The Great Deluge," told Bloomberg. "It's a beehive of activity."
Eight of the 15 fastest-growing cities with populations of at least 100,000 during that period were in Texas. Several factors account for Texas' robust growth, including a higher birth rate and migration from areas that were hard-hit by the real-estate bust, including California, Arizona and Florida.
The second fastest-growing city was Round Rock, Texas, just north of Austin, which grew 4.8%, to 104,664. Coming in third was Austin itself, which grew 3.8%, to 820,611.
Texas cities also accounted for six of the 15 cities that added the largest number of new residents. New York led that list, adding 69,777 residents and easily retaining its spot as the most populous U.S. city, with 8.24 million residents. The second most populous city, Los Angeles, has fewer than half as many residents.
The measurements were done of incorporated cities, so the way governments are organized is also a factor in city size. Jacksonville, Fla.., for example, is larger than Miami because it incorporates the entire county, while Miami is one of about 30 incorporated municipalities in Miami-Dade County.
These were the fast-growing cities:
New Orleans: 4.9%, to 360,740.
Round Rock, Texas: 4.8%, to 104,664.
Austin, Texas: 3.8%, to 820,611.
Plano, Texas: 3.8%, to 269,776.
McKinney, Texas: 3.8%, to 136,067.
Frisco, Texas: 3.8%, to 121,387.
Denton, Texas: 3.4%, to 117,187.
Denver: 3.3%, to 619,968.
Cary, N.C.: 3.2%, to 139,633.
Raleigh, N.C.: 3.1%, to 416,468.
Alexandria, Va.: 3.1%, to 144,301.
Tampa, Fla.: 3.1%, to 346,037.
McAllen, Texas: 3%, to 133,742.
Carrollton, Texas: 3%, to 122,640.
Atlanta: 3%, to 432,427.
The cities that added the most residents were New York; Houston; San Antonio; Austin; Los Angeles; Dallas; Phoenix; Denver; Charlotte, N.C.; San Diego; New Orleans; Fort Worth, Texas; El Paso, Texas; Washington, D.C.; and San Jose, Calif.
The most populous cities as of July 1, 2011, were New York; Los Angeles; Chicago; Houston; Philadelphia; Phoenix; San Antonio; San Diego; Dallas; San Jose; Jacksonville; Indianapolis; Austin; San Francisco; and Columbus, Ohio.
About Teresa Mears
Teresa Mears is a veteran journalist who has been interested in houses since her father took her to tax auctions to carry the cash at age 10. A former editor of The Miami Herald's Home & Design section, she lives in South Florida where, in addition to writing about real estate, she publishes Miami on the Cheap to help her neighbors adjust to the loss of 60% of their property value.
msn real estate is social
FIND YOUR DREAM HOME OR APARTMENT
WHAT'S YOUR HOME WORTH?
HOME IMPROVEMENT PROFESSIONALS
from our partners