Morgan Stanley sued over subprime lending
Lawsuit brought by Detroit homeowners and the ACLU accuses the investment bank of collaborating to push African Americans into bad subprime loans.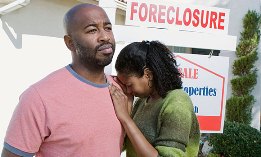 Saying Wall Street should be held accountable for its role in steering families into high-risk mortgages, the American Civil Liberties Union has filed suit against Morgan Stanley on behalf of five Detroit homeowners.
The suit accuses Morgan Stanley of violating civil-rights laws "by providing strong incentives to a subprime lender to originate mortgages that were likely to be foreclosed on," steering African-American families into high-risk loans.
The loans were made by New Century Financial Corp., a subprime lender that went bankrupt in 2007. The lawsuit claims that Morgan Stanley, which packaged and sold the loans to investors, is responsible because the company pressured New Century to make questionable loans.
Post continues below
"With this lawsuit, real victims of the subprime lending scandal are stepping forward to hold investment banks like Morgan Stanley accountable for the devastation the banks wrought in their lives and in our economy," Anthony D. Romero, ACLU executive director, said in a news release.  
"Illegal practices surrounding mortgage-backed securities robbed people of their homes, violated our civil rights laws and left all Americans holding the bag as our economy teetered on the brink of another Great Depression."
Morgan Stanley has not yet responded to the lawsuit.
The lawsuit alleges that minorities were disproportionately steered to subprime loans, even if they qualified for better terms.
While this is the first lawsuit in which homeowners have sued an investment bank, other lenders have faced accusations of discrimination in their lending practices.
Dennis Park at the ACLU blog writes:
Although by no means the only institution which engaged in predatory practices, Morgan Stanley was the architect of an unstable structure of mortgage-backed securities, whose consequences are still being felt in Detroit's hardest-hit neighborhoods. Hoping to realize large profits from the securitization of extremely risky mortgages, Morgan Stanley worked hand-in-glove with New Century, encouraging them to issue mortgages which ignored all of the most basic fair-lending principles in order to quickly create a large number of mortgages which could be processed and sold as securities. That the mortgages exposed homeowners to excessive likelihood of foreclosure was of no consequence to Morgan Stanley, which sought short-term profits by gambling with the futures of homeowners in places like Detroit.
About Teresa Mears
Teresa Mears is a veteran journalist who has been interested in houses since her father took her to tax auctions to carry the cash at age 10. A former editor of The Miami Herald's Home & Design section, she lives in South Florida where, in addition to writing about real estate, she publishes Miami on the Cheap to help her neighbors adjust to the loss of 60% of their property value.
msn real estate is social
FIND YOUR DREAM HOME OR APARTMENT
WHAT'S YOUR HOME WORTH?
HOME IMPROVEMENT PROFESSIONALS
from our partners