$478 million judgment for deceptive infomercials
A federal court agrees with the FTC that purveyors of 3 get-rich-quick real-estate schemes sold systems that yielded almost no profits.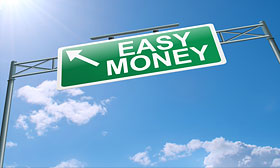 If you've ever heard a real-estate infomercial promising you quick, easy money from investing in real estate, you've probably wondered if it's too good to be true.
If you've already tried investing in real estate, you already know it's too good to be true. You can make money in real estate, but it's rarely quick or easy.
The federal district court in California this week ordered the marketers of three get-rich-quick real-estate systems to pay a record fine of $478 million, saying the companies deceived the more than 1 million consumers who bought their products.
Post continues below
The products promised real-estate riches in exchange for materials that cost $39.95 each — plus $39.95 a month additional that the FTC said wasn't adequately disclosed — and personal coaching services for which consumers paid up to $14,995. Almost no one made any money.
"This huge judgment serves notice to anyone thinking of using phony get-rich-quick schemes to defraud consumers," Jeffrey Klurfeld, director of the Western Region of the Federal Trade Commission, said in a statement. "The FTC will come after you if you violate the law. It's also a reminder to consumers that they should be skeptical about these types of easy-money claims."
The fines follow a judgment in May against the purveyors of three systems: John Beck's Free & Clear Real Estate System, John Alexander's Real Estate Riches in 14 Days and Jeff Paul's Shortcuts to Internet Millions.
The order also includes a lifetime ban on infomercial production and telemarketing against Beck, Douglas Gravink and Gary Hewitt, the two founders of Family Products, which produced the infomercials.
An attorney for Gravink and Hewitt said his clients would appeal the lifetime ban. "We just believe the evidence doesn't support that kind of a harsh and broad order," Larry Russ of Russ August & Kabat told Reuters. Beck's lawyers declined to comment.
One person who paid Beck's organization $12,675 for coaching wrote to Ripoff Report about his attempt to get the company to honor a money-back guarantee. He wrote:
"I worked extremely hard completing ALL assignments. I ended up having two coaches because the first was totally inadequate. He wouldn't formulate his lessons around what I needed help with. Nevertheless, I completed the course and received a Certificate of Completion.

"I made no money. I sincerely tried, but it just didn't work."
You can see more complaints about Beck here, complaints about Alexander here and complaints about Paul here.
About Teresa Mears
Teresa Mears is a veteran journalist who has been interested in houses since her father took her to tax auctions to carry the cash at age 10. A former editor of The Miami Herald's Home & Design section, she lives in South Florida where, in addition to writing about real estate, she publishes Miami on the Cheap to help her neighbors adjust to the loss of 60% of their property value.
msn real estate is social
FIND YOUR DREAM HOME OR APARTMENT
WHAT'S YOUR HOME WORTH?
HOME IMPROVEMENT PROFESSIONALS
from our partners