New-home forecast grim, despite September sales increase
Builder price cuts likely led 5.7% growth in month-to-month sales. Meanwhile, builders group says we're headed for another record-low year.
Sales of new homes increased 5.7% in September from August, according to the Census Bureau. They also measured a 0.9% decrease from September 2010.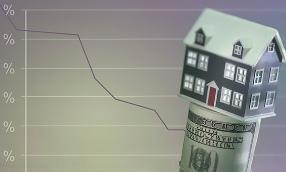 The jump to an annual rate of 313,000 new homes built marks the first sales gain after four months of decline. Traditionally, those four summer months are the strongest for home sales and construction. August's rate was the lowest in six months.
But the good times could be short-lived. In its fall housing-construction​ forecast, the National Association of Home Builders said it is not expecting a recovery in new-home sales or construction until 2013.

"I see some annual curing in 2012 and more in 2013, and that means we will see more building going on," said David Crowe, the NAHB's chief economist, in a conference call earlier today. "This year is looking like it will come in at another record low."
Nationally, new-home construction has yet to bounce back fully after a tremendous dip between 2006 and 2009. At the market trough, housing starts were at 28% of the 2002 and 2003 levels, which Robert Denk, the NAHB's assistant vice president of forecasting and analysis, qualified as "normal production."
Post continues below
Homebuilders also may be eager to unload their product. The median sale price of new homes in September was $204,400 — the lowest since October 2010, according to The Associated Press.
Taken together, the sales, price and construction lulls may be feeding off one another.
"No one wants to build a house if they expect the price or value of that house to decline in the first few years after they built it," said Joel Prakken of Macroeconomic Advisors LLC during the NAHB call.
There have been glimmers of hope, however. Earlier this month, the Commerce Department announced that homebuilding had its best month in almost a year and a half in September. This month, builder confidence also reached its highest level since May 2010, according to the NAHB/Wells Fargo Housing Market Index.
But the housing-starts data were led by apartment construction; multifamily construction measured a 51.3% month-to-month gain, compared with only 1.7% for single-family homes. The reason behind the apartment-supply jump: demand.

Research firm Reis Inc. reports that 5.6% of apartments were vacant in the third quarter of this year, per The Wall Street Journal. That's the lowest vacancy rate since 2006, and it doesn't bode well for homeownership growth.
Existing-home sales fell 3% in September from August.
Crowe also said that by dollar amount, remodeling volume exceeds single-family home construction. In other words, people are still are content fixing their current homes, rather than testing the market or buying up into new construction.
Of course, as the cliché goes, all real estate is local. Denk noted that situations are different across the country. North Dakota and Wyoming have seen strong home-production signs, while construction in Nevada, Michigan and Arizona rank far below the U.S. average.
Where might we see growth first? The NAHB's Improving Markets Index lists 23 areas that have had six months of consistent increases in home prices, housing starts and employment, as of October.
New Orleans and Pittsburgh are the only major cities to make the list, Crowe said. The others:
Alexandria, La.
Amarillo, Texas
Anchorage, Alaska
Bismarck, N.D.
Casper, Wyo.
Fairbanks, Alaska
Fayetteville, N.C.
Houma, La.
Iowa City, Iowa
Jonesboro, Ark.
Kankakee, Ill.
McAllen, Texas
Midland, Texas
Odessa, Texas
Pine Bluff, Ark.
Sherman, Texas
Sumter, S.C.
Waco, Texas
Waterloo, Iowa
Wichita Falls, Texas
Winston-Salem, N.C.
— Tony Stasiek is a producer/editor at MSN Real Estate.

The Miami Beach(zip codes 33139, 33140, 33141) non-distressed luxury real estate market  (condo and homes) is by far one of the markets that is seeing continued growth and increase due to foreign buyers, low inventory and the demand for
waterfront/oceanfron​t
property. According to a report by the Miami Board of Realtors, 31% of 2011 US real estate transactions placed by foreigners to date are within the state of Florida, up 9% from last year. International buyers accounted for around $82 billion in U.S. residential real-estate sales for the year ending in March, up from $66 billion during the previous year period...all these statistics prove that courting foreign buyers may be a value to cities looking to give their markets a boost.
The stats here also prove certain markets are faring quite well against the 'bad' news forecasts...
http://www.thekleert​eam.com/blog/2011/10​/Miami-Beach-Luxury-​Homes-Sales-Update.h​tm
Are you sure you want to delete this comment?
About Teresa Mears
Teresa Mears is a veteran journalist who has been interested in houses since her father took her to tax auctions to carry the cash at age 10. A former editor of The Miami Herald's Home & Design section, she lives in South Florida where, in addition to writing about real estate, she publishes Miami on the Cheap to help her neighbors adjust to the loss of 60% of their property value.
msn real estate is social
FIND YOUR DREAM HOME OR APARTMENT
WHAT'S YOUR HOME WORTH?
HOME IMPROVEMENT PROFESSIONALS
from our partners