Habitat for Humanity moves beyond building
Organization expands its mission to help homeowners maintain and fix up homes in an effort to revitalizate neighborhoods.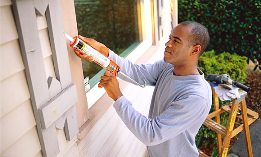 Habitat for Humanity has been building houses for years for people who otherwise can't afford homes.
But in an effort to help more people in difficult financial times, the organization has embarked on new projects to help people maintain their homes.
In Roeland Park, Kan., a suburb of Kansas City, Mo., Habitat recently helped Sherry Moss and George Allen clean up the yard, replace gutters and paint the house, maintenance they couldn't do on their own because of health issues and financial problems. 
In Michigan's Great Lakes Region, Habitat groups in Bay, Saginaw and Midland counties joined with local community foundations and Dow Chemical to fix up 75 homes.
"We are shifting our focus from house building to neighborhood-revital​ization projects," Sandra Pearson, president and CEO of Habitat for Humanity of Michigan, told reporters. "In 2008, we were doing one renovation for every nine builds across the state. Now it's one for one."
Some local Habitat groups have been working on community-revitaliza​tion projects for several years, and the national organization is encouraging such projects.
The Neighborhood Revitalization Initiative is seen as a way to build stable neighborhoods, because a few blighted homes can bring down the value of all the homes around them.
The revitalization projects are helping homeowners who can't afford to correct code violations or keep up routine maintenance. Those who can contribute sweat equity are asked to do so, just as they do when Habitat builds homes.
Post continues below

"We also want to do community cleanup," Tom Lally, executive director of Heartland Habitat, told The Kansas City Star. "We could transform a neighborhood by the end of the day."
In Michigan, Mary Juhnke, executive director of Bay County Habitat for Humanity, said she likes the fact that the organization can help more people with the revitalization projects.
"In Bay County, we would typically build between one and three houses a year, so we would be able to help between four and 12 people," she said. "With this project, we're working on 20 houses and helping 66 family members."
FIND YOUR DREAM HOME OR APARTMENT
msn real estate is social
WHAT'S YOUR HOME WORTH?
HOME IMPROVEMENT PROFESSIONALS
more on msn real estate