Listing of the Week: 'Blue Light Special' estate
Kmart heir lists his 33-acre island property, including 5 buildings and 2 remote-control drawbridges, at a ready-to-move price.
Readers of a certain age may remember the origin of the clichéd "Blue Light Special." It comes from retailer Kmart, which set off a flashing blue light at various times of the day to announce an item for sale at a deep discount.
There's not literally a light strobing above our Listing of the Week — primarily because Kmart has never been in the business of selling 33.6-acre properties with five structures, two solar-powered drawbridges and one private, manmade lake. But the list price of the property on Washington state's Fidalgo Island — just $1.595 million — certainly seems "priced aggressively to move quickly," listing agent Joan Groesbeck says.
The seller is Christopher Kresge, grandson of Kmart founder S.S. Kresge.
Post continues below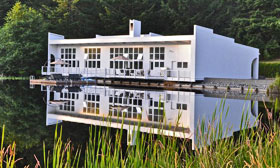 The property's original owner built the 2,583-square-foot main house in 1995. Modern and understated, its design was inspired by the "classic white box" style made popular by "starchitect" Richard Meier.
By 2007, however, Kresge had not only remodeled the main residence but also purchased two adjoining parcels — ensuring the home couldn't be seen from the road. Heck, it can't be seen from anywhere close to the gated street entrance.
The remodeled main house has three bedrooms, 1.5 bathrooms, stainless-steel appliances in the kitchen and what the property's website describes as a "floating living room with swim ladder and fresh water shower."
Got a smartphone? Then you can control the lighting and security system from anywhere you can get service. The same applies for the property's freestanding guest cottage, which also has a home theater with a 7-foot dropdown movie screen.
Also on the property are a "rustic cabin," a storage building and a "toy barn," Groesbeck says, which can house eight vehicles — including a 45-foot motor home. That building also includes office quarters and a full caretaker's apartment with its own kitchen, bathroom and laundry. All are included in the list price, says Groesbeck, of Coldwell Banker Bain.
The kicker, however, may be the grounds. The main house overlooks a private, seven-acre lake, which connects to a series of canals that can accommodate a kayak, canoe or paddle boat. Kresge let that area grow out, Groesbeck says.
"You feel like you're in the Amazon," she says.
Here's where those bridges come in: In addition to a Japanese-style footbridge, two solar-powered drawbridges connect islands in the middle of the lake.
Not enough water for you? The Strait of Juan de Fuca, just north of Puget Sound, is a few blocks to the west. Seattle and Vancouver, British Columbia, are about a 90-minute drive away. Just to the south is Deception Pass State Park. To the north is the former fishing village of Anacortes, Wash., now known for its independent-music scene and its ferry terminal for the San Juan Islands.
Although the property has been used only as a single-family residence, Groesbeck says it could work as a resort or event space — or a vineyard or orchard, considering its meadow has an irrigation system.
— Tony Stasiek is a producer/editor at MSN Real Estate.
Are you sure you want to delete this comment?
About Teresa Mears
Teresa Mears is a veteran journalist who has been interested in houses since her father took her to tax auctions to carry the cash at age 10. A former editor of The Miami Herald's Home & Design section, she lives in South Florida where, in addition to writing about real estate, she publishes Miami on the Cheap to help her neighbors adjust to the loss of 60% of their property value.
msn real estate is social
FIND YOUR DREAM HOME OR APARTMENT
WHAT'S YOUR HOME WORTH?
HOME IMPROVEMENT PROFESSIONALS
from our partners