'Local' real-estate stories outsourced to Philippines
Radio show reveals that a company that provides real-estate news to newspaper websites has some of the work done offshore, with fake bylines.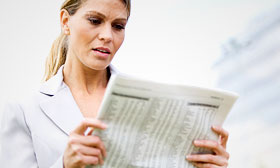 When I write "Listed" blog posts, I often quote from other websites, including newspaper sites. If I'm looking for insight into real estate in Detroit, for example, I figure that the Detroit Free Press reporters know their city.
But last week, we found out that some real-estate reporters were not whom they appeared to be. "Jake Barnes," for example, wrote a number of stories describing homes for sale that appeared on the San Francisco Chronicle's website in 2009. He also wrote about real-estate transactions in Chicago.
Except there is no Jake Barnes. According to The Chronicle's investigation, the articles actually were written by Jeremy Schnitker, who also wrote real-estate stories for a company called BlockShopper under his own name. Other stories produced by the same company were written by workers in the Philippines.
Post continues below
Journatic and its sister company BlockShopper contracted with newspapers to produce articles based on public real-estate records and online resources. The descriptions of the San Francisco homes for sale by "Jake Barnes," for example, probably came from listing websites.
The newspapers liked the idea of Journatic producing these small local stories because it was cheaper than paying staff members to do the reporting and writing.
The fact that local real-estate stories were sometimes written by people in the Philippines (or Americans writing about cities they had never visited) came to light in a report on Chicago Public Media's "This American Life." The program interviewed Ryan Smith, who said he wrote and edited for Journatic for $10 an hour without benefits. Smith said he found out about the Filipino workers after he complained about the poor grammar in the stories he was given to edit. So he decided to blow the whistle.
"The whole thing continued to eat me up inside because I felt Journatic violated almost everything I believe in when it came to good journalism, and I felt like I need to do something about it," Smith told the Poynter Institute's Anna Tarkov.
"People didn't think much about the beef they were eating until someone exposed the practice of putting so-called 'pink slime' into ground beef. Once it came out, the food industry moved quickly to change it. I feel like companies like Journatic are providing the public 'pink slime' journalism."
Jake Barnes (the name of the protagonist in Ernest Hemingway's "The Sun Also Rises") was not the only fake byline. Ginny Cox, Glenda Smith, Jimmy Finkel, Carrie Reed, Jay Brownstone and Amy Anderson were also alias for workers, most based in the Philippines.
Journatic CEO Brian Timpone told Poynter that the company had used aliases for its writers at BlockShopper but was no longer doing so.
Among journalists, this has been a big story. The use of fake bylines is considered highly unethical in newspaper journalism, though it is sometimes done in the magazine world. Outsourcing to cheaper foreign workers, of course, happens not just in journalism but in many industries.
Does this matter to you as a reader? Do you care whether these types of real-estate stories are written by local writers or outsourced to someone offshore?
About Teresa Mears
Teresa Mears is a veteran journalist who has been interested in houses since her father took her to tax auctions to carry the cash at age 10. A former editor of The Miami Herald's Home & Design section, she lives in South Florida where, in addition to writing about real estate, she publishes Miami on the Cheap to help her neighbors adjust to the loss of 60% of their property value.
msn real estate is social
FIND YOUR DREAM HOME OR APARTMENT
WHAT'S YOUR HOME WORTH?
HOME IMPROVEMENT PROFESSIONALS
from our partners