Foreigners snap up Memphis real estate
International investors are drawn from as far away as New Zealand by low home prices and high rents. Move over, Miami.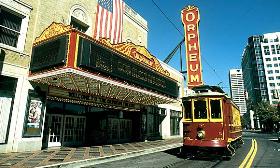 International buyers have long played a key role in the real-estate fortunes of cities such as Miami, Los Angeles and New York.
But who know they were flocking to Memphis, Tenn.? And they're not going there to pay homage to Elvis.
A company called Memphis Investment Properties, which buys distressed properties, rehabs them, rents them to tenants and then sells them to investors, stumbled upon the international market by accident last year, reports Steve Bergsman at Inman News.
This year, the company expects 50% of its sales to go to foreigners, up from zero percent two years ago.
Bergsman explains how the change came about:
An anesthesiologist from Italy, who also played in a blues band, decided that Memphis, the home of the blues, might be an interesting place to live. She found the Memphis Investment Properties' website and called.
Craig Jennings, Memphis Investment's director of investor relations, took the call. "She was like, 'Wow, these homes are so incredibly cheap and with euro conversion so good, you should be selling these to foreigners,'" he recalled. "That sparked my interest."
Memphis appeals to foreign investors for a number of reasons: The median home price last year was $67,000, lower than in most major U.S. cities. But rents are relatively high, which improves return on investment.
The decline in home prices has led foreigners with cash to snap up real-estate bargains throughout the United States. Brazilians are flocking to Miami, for example, and real-estate agents are traveling to Latin America to recruit buyers. Canadians are buying bargain-priced homes in Phoenix.
And now Memphis is on the map.
"Several people I met in New Zealand have flown into Memphis to see us, check out operations and drive around," Jennings told Bergsman. "They look at the properties and get a feel for the town. We sold 10 properties to folks I originally met while I was in New Zealand."
FIND YOUR DREAM HOME OR APARTMENT
msn real estate is social
WHAT'S YOUR HOME WORTH?
HOME IMPROVEMENT PROFESSIONALS
more on msn real estate