Presidential candidates on housing: Silence
Despite the magnitude of the housing crisis, neither President Barack Obama nor challenger Mitt Romney has made housing policy a key part of his campaign.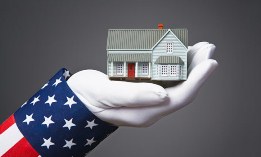 With the presidential election coming up Tuesday, we thought it would be wise to write a post detailing  the candidates' positions on housing.
But despite the enormous impact the housing crisis has had on Americans' lives, neither President Barack Obama nor Republican challenger Mitt Romney has had much to say about the issue.
The two have left us to guess what they might do based upon what Obama has done so far and comments Romney has made here and there.
Post continues below
"Housing is not really a winner of an issue for either candidate," Jed Kolko, chief economist for Trulia, told The Associated Press. "Obama doesn't have big policy successes to point to, which he would need as the incumbent, and Romney doesn't have bold new policy proposals."
The AP writes:
Romney last month released a housing plan, but five of the seven pages are devoted to criticizing Obama and the document contains few concrete recommendations. Obama doesn't mention housing in the 20-page booklet his campaign circulated last week to outline his second-term agenda.
"It's doubtful the candidates have different positions on this," Stuart Gabriel, director of the Ziman Center for Real Estate at UCLA, told The AP. "It's just not easy to do big, radical things here."
Mortgage News Daily's Jann Swanson identified seven key housing issues and attempted to piece together the candidates' positions from a variety of sources. You can read the article and decide whether anyone's position has been clarified. Since Obama is the incumbent, we do at least know what he's done so far. Romney has been more enigmatic. Several sentences begin "It is a little hard to determine Romney's stance."
Two major issues that will face the next president are the future of Fannie Mae and Freddie Mac and whether the tax deduction for mortgage interest should be curtailed. In the second debate, Romney suggested a $25,000 cap for all deductions, which would effectively limit the deduction for housing. He has not elaborated. But even if Romney wanted to end the mortgage deduction, he would face an uphill battle because the deduction is so popular.
Voters interviewed by the Palm Beach Post weren't basing their choices on the candidates' housing policies – or lack thereof.
"The way I see it, any president that's in there right now, I couldn't care less," Zeneida Moreno, who lost her home to foreclosure in 2010 when she couldn't get a loan modification after losing her job, told The Post. She plans to vote for Obama. "No one can improve my situation because everyone is in the same boat."
What do you think? Will the election of either Romney or Obama make a difference in the future of housing?
FIND YOUR DREAM HOME OR APARTMENT
msn real estate is social
WHAT'S YOUR HOME WORTH?
HOME IMPROVEMENT PROFESSIONALS
more on msn real estate