NYC rent control may go to Supreme Court
The landlord is arguing that the city's rent-stabilization laws are unconstitutional. In his building, one tenant is paying about $1,000 a month and another is paying $2,650 for similar apartments.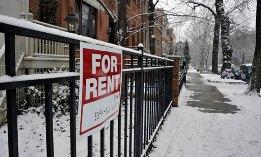 If you don't live in New York City, this may sound unbelievable: You can live in an apartment for half or less of the market rate, forever, and if you die, you can leave the apartment — with its low rent — to your children.
The rent-stabilization laws that New York City enacted in response to a housing shortage after World War I are facing a new challenge, in a case that may go to the Supreme Court.
James and Jeanne Harmon inherited a five story townhouse in Manhattan's Upper West Side. The building has six one-bedroom apartments, in addition to their unit. Three are rented for market rate. Three, considered "rent-stabilized" are rented for 59% less, according to a case filed by the Harmons in federal court.
Post continues below
James Harmon is arguing that New York's rent-control laws represent a "taking" and are unconstitutional. He has lost his case in two lower courts, but the U.S. Supreme Court is considering whether to accept his appeal.
"The issue is whether the Constitution allows the government to force someone to take strangers into their home and to subsidize them for the rest of their lives," James Harmon told The New York Daily News.
The tenant who is mentioned most often in the case is an executive recruiter who owns a house in Southampton. She has lived in the building since 1976 and pays about $1,000 a month. The tenant next door pays $2,650 a month, according to a story in The Wall Street Journal.
James Harmon's grandparents bought the home in 1949 and he grew up there. After Harmon and his brother inherited the house in 1994, he took out a $1.5 million mortgage to buy his brother's share, The New York Times reported. James and Jeanne Harmon moved back into the building in 2002. 
Rent-control laws are rare in the United States. Only a few cities have such laws, and none on the scale of New York.
New York Attorney General Eric Schneiderman is defending the case, arguing that the rent-stabilization laws are constitutional and that the case does not deserve Supreme Court review. He writes in his brief:
By regulating evictions and the pace of rent increases, the [rent-stabilization law] protects tenants, particularly the elderly and disabled, from dislocation, and limits the disruption to neighborhoods and communities that would result from dramatic changes in rental rates and rapid turnover of tenants year to year.
You can read more about the legal arguments at The Wall Street Journal's Metropolis blog.
The fact that the Supreme Court is considering the case has surprised legal observers.
"I thought this was a well-settled question of law for the better part of the century," Andrew Scherer of Columbia University, an expert on landlord-tenant laws, said to The Wall Street Journal.
What do you think of rent control? Should the Supreme Court take this case?
FIND YOUR DREAM HOME OR APARTMENT
msn real estate is social
WHAT'S YOUR HOME WORTH?
HOME IMPROVEMENT PROFESSIONALS
more on msn real estate