Boardwalk isn't as valuable as it used to be
Real-estate company looks at the Monopoly properties in light of values in Atlantic City today. Relative values have changed a bit since the 1930s.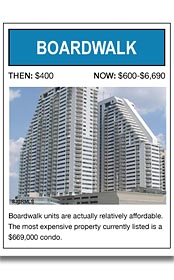 What were your favorite properties when you played Monopoly as a kid?
We all wanted Boardwalk and Park Place, of course, but those magenta properties that included St. Charles Place also could add to your cash, even if rents were modest.
The names of the properties in the popular Parker Brothers game were taken from real-life streets in Atlantic City, N.J. David Cross of Movoto.com decided to take a lot at the valuations in light of what is for sale in Atlantic City today. You can see his board here.
Boardwalk and Park Place don't have quite the cachet they did in our childhood. "Boardwalk … well, let's just say it's a lot more affordable than you thought it was," Cross wrote.
Post continues below
On the board Movoto created to show its price comparisons, the company cut two zeroes off the modern property prices, so a $250,000 house shows up as $2,500.
Boardwalk, which cost $400 in the 1930s, includes condos that sell for $600,000 to $669,000 today. The value of modern-day Park Place is difficult to measure. The site of the $375 card is now the entrance to Bally's casino; there are no homes on the street at all.
If you were looking to the future, you would have been wise to invest in Marvin Gardens, a yellow property that sold for $290. Today, Marvin Garden is a well-to-do area with homes that sell for $1.175 million. You can get some bargains on another yellow property, Ventnor Avenue, Movoto reports.
No homes are for sale on St. Charles Place, Virginia Avenue or States Avenue, but those areas appear to still be good investments, Movoto says. The bottom line, Cross writes:
Our analysis: The closer you are to the water, the more expensive the houses are in Atlantic City. No surprises there. However, great deals are available near the water on Atlantic Avenue (the yellow property), if you don't mind a condo on a high-rise a couple blocks from the water. Some of the "cheaper" properties are actually a lot more valuable today, and some of the higher-end properties (such as Kentucky, Indiana and Illinois) aren't."
Are you sure you want to delete this comment?
About Teresa Mears
Teresa Mears is a veteran journalist who has been interested in houses since her father took her to tax auctions to carry the cash at age 10. A former editor of The Miami Herald's Home & Design section, she lives in South Florida where, in addition to writing about real estate, she publishes Miami on the Cheap to help her neighbors adjust to the loss of 60% of their property value.
msn real estate is social
FIND YOUR DREAM HOME OR APARTMENT
WHAT'S YOUR HOME WORTH?
HOME IMPROVEMENT PROFESSIONALS
from our partners